BY MICHELLE HONEYAGER
Updated August 18, 2020
Art galleries are a great way to arrange lots of smaller art pieces. But if you have large wall art that you want to showcase, you'll have to go by a different set of design principles.
There are many reasons to hang large wall art; maybe you painted something yourself or purchased a special piece while traveling. You may also be going for a more modern style, which tends to emphasize minimalism. Large wall art is a surprisingly great way to optimize small spaces. By focusing on a few large elements, you leave the space looking more open and less cluttered.
Read on to learn about when, how and where to use large wall art.
Empty wall spaces between two doors were practically made for large wall art. Image: Ohara Davies-Gaetano Interiors
Look for sizable empty wall space for large wall art
Your first step is to look for a wall space that's big enough to support the art. That may mean taking down existing art or reorganizing bookshelves and furniture. Likely spaces include walls in the living room or bedroom, space above a minimalistic mantel or areas between windows. You can also try accent walls or spaces in entryways.
The more empty a wall space is, the better. Combining large art right next to a massive window or over an ornate mantel may detract attention from the art itself, because the art has to compete with those other elements.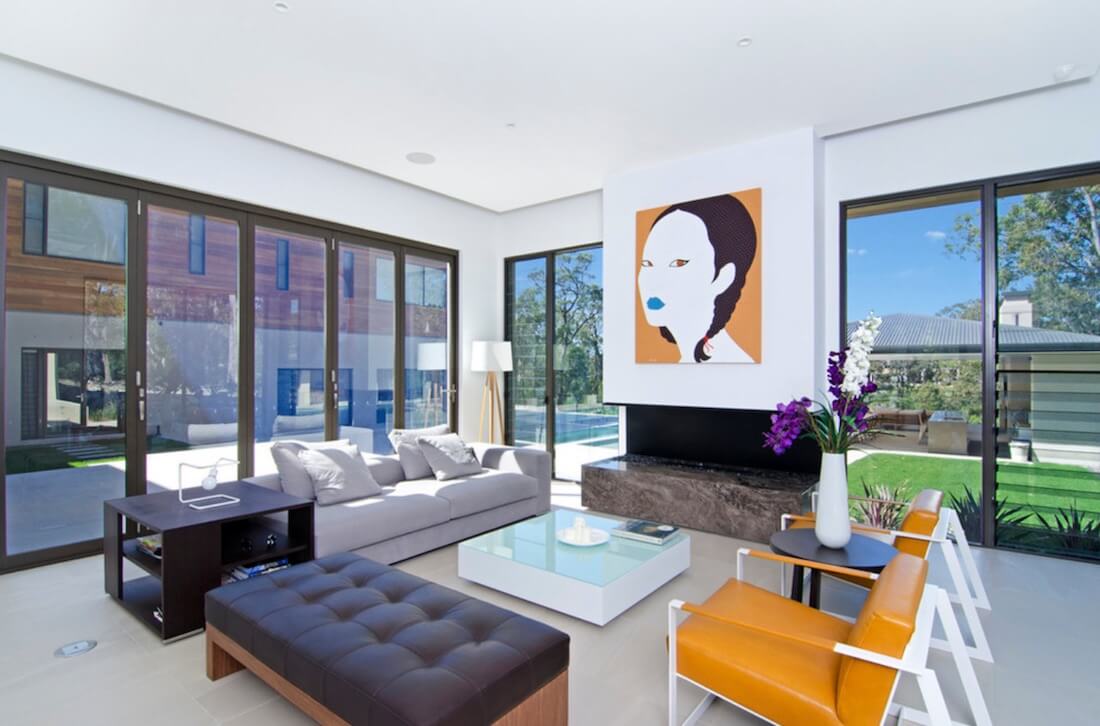 Large wall art makes a natural focal point in a room. Image: Coastech Constructions
Arrange the room around the art
Make the large wall art a focal point by arranging furniture around it. The photo above shows how you can arrange furniture in a u-shape around the art. This works especially well in spaces where the art is hanging over a minimalistic mantel.
You might also point a sofa toward the wall art or organize chairs to face it. Another option is to place chairs and sofas across the room from each other, with the wall art between them. If the wall art is in a bedroom, place it over the bed, so the bed faces it.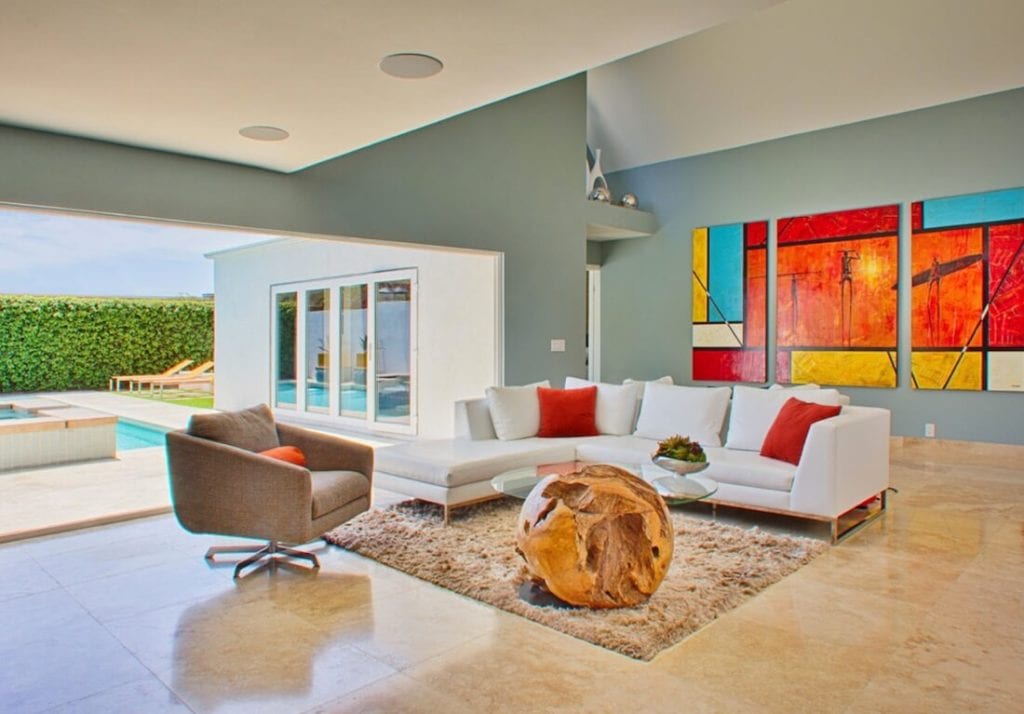 Don't feel limited to just one canvas. Image: Restyle Interiors
Get creative by breaking up a single piece
Large wall art doesn't have to be one painting in one frame, either. The photo above shows how one piece can be spread across a few different canvases. This is a good style if you are trying to cover a truly large wall. One piece can occupy several canvases in multiple frames to take on a whole different design.
Creative looks like this also add visual interest to a space. With this method, allowing the color of the wall to peek through gives the room a more cohesive appearance. Breaking up one piece of art into several different pieces also makes the art easier to transport.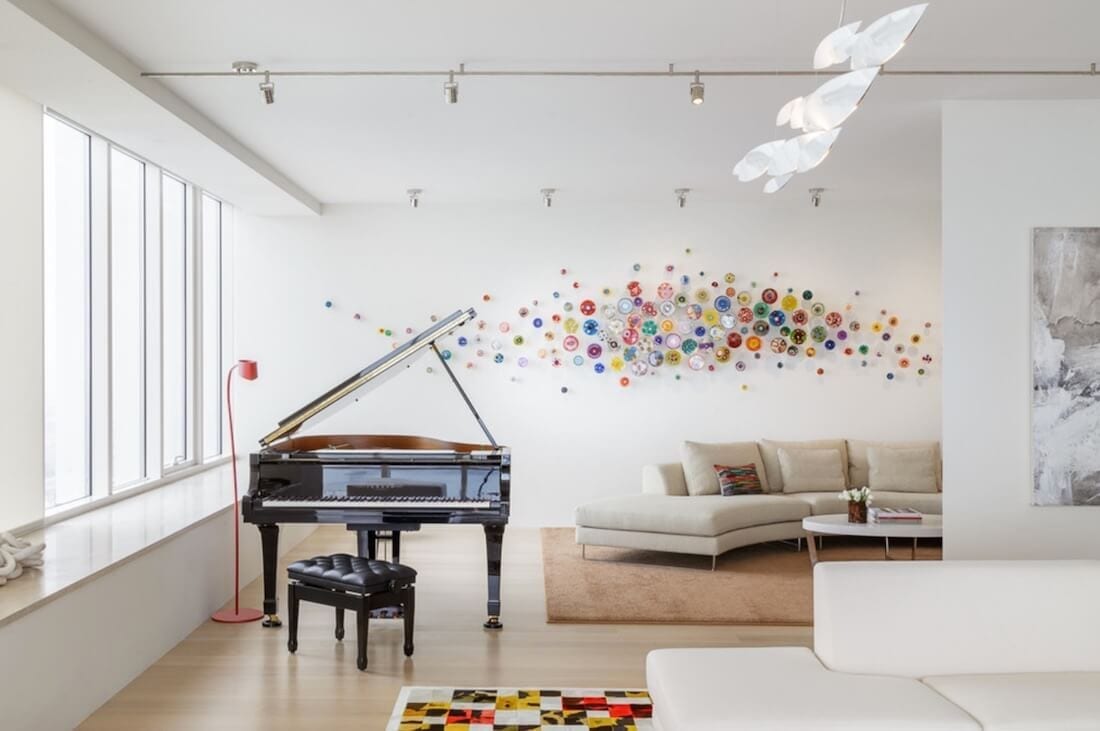 Wall art doesn't have to stay flat on the wall. Image: Matthews Studio
Don't be afraid to go three-dimensional
Three-dimensional art is another way of expressing creativity in a room. Go for multi-tier canvases, dimensional panels as accent walls or art pieces of any variety that stick out from the wall. The texture adds visual interest and helps the art become a focal point, which is often the objective of large wall art.
In the photo above, it's easy to see how a colorful piece in a room with a neutral color scheme helps the art become the focal point. Though black and white three-dimensional wall art is a stark design, it can also pop if placed against a backdrop like wood paneling or colorful paint.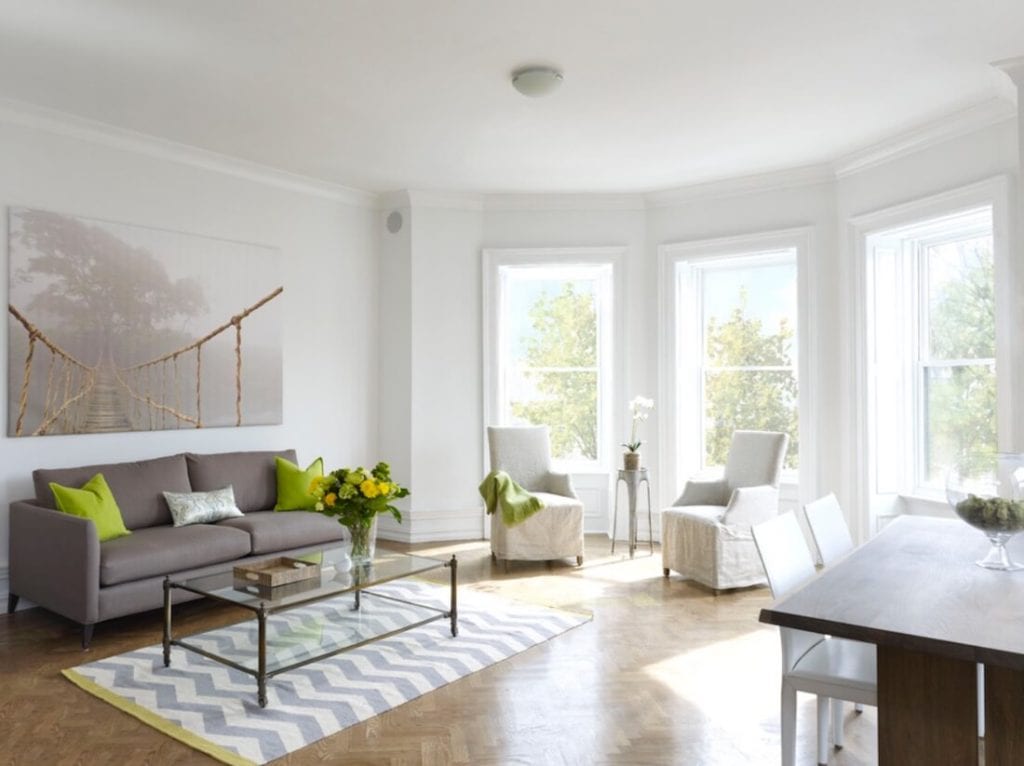 Trail, road and bridge shots draw the eye. Image: Horrigan O'Malley Architects
Look for pieces that draw you in
A good way to make that large wall art a focal point in the space is to find art that draws you in visually. The photo above is a good example: The shot of the rope bridge extending into the distance invites the eye to follow and see where the bridge is leading. You might also try art of geometric optical illusions, nature close-ups or any other type of imagery you can't help but stare at. (The need to keep looking may just be the definition of good art, after all.)
You can look for customized Wall Arts Here!
What type of large wall art have you incorporated into your home?