Your home is happily filled with kids and pets, but style matters to you, too. Rather than banish kids from the living room or reprimand Fido for curling up in a sofa corner, consider all of the sensible, yet stylish choices designed for busy households like yours. Before you finalize your decisions, you'll want to think about how to arrange kid- and pet-friendly furniture, as well as its material, color, and construction. Also, how do you plan to incorporate the new piece in your current layout? Here, we point out what to look for and what important questions to ask yourself along the way.
What is your room's layout and purpose?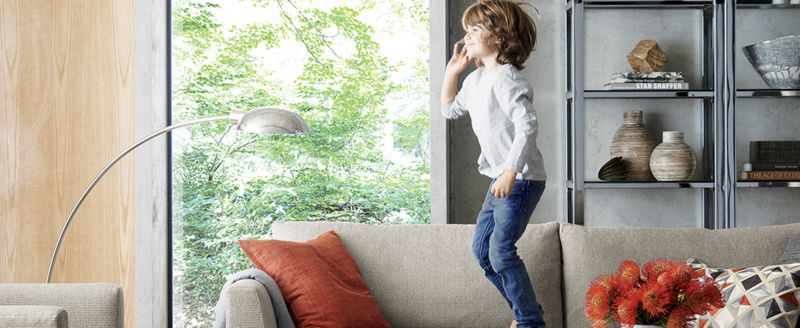 First, take a look at the space you want to furnish. What furniture arrangement works best? Do you need a casual lounge sofa and chairs for family movie nights or a living room piece that people will see from your entryway? Will your kids be using your dining table during play time? Understanding how your family will use the piece will help you hone in on a few categories.
Your upholstery choice makes a difference.
Even though certain fabrics may look and feel similar, they can perform very differently. For instance, wool or velvet fabrics add rich texture to a piece of furniture, but pet hair can get caught in the fibers. So what should you look for instead? Something that features a kid- and pet-friendly fabric like our Douglas upholstery, which is durable, scratch-resistant, breathable, environmentally-friendly and non-hazardous. It also has non-absorbent qualities that keep liquids from soaking in, allowing you ample time to clean up any spills. Patterned or printed upholstery also help disguise stains and spills, making them viable options.
Outdoor materials are made to withstand the elements.
That can mean rain, wind or snow, but also spilled milk, kids' craft sessions, and pizza night. Outdoor fabrics, powdercoated metals, and high-gloss finishes work wonders inside and can look just as sleek and sophisticated as the indoor options.
Leather can also weather years and years of use.
It may cost you more up front, but think of leather as a long-term investment for your home. It's incredibly durable, easy to wipe clean when spills occur, and won't hold onto odors on the surface. Like your favorite leather jacket, leather furniture develops a more beautiful patina over time that adds character and richness. For added protection from kids and pets alike, ask if the hide has been finished with waxes or oils to help it resist everyday stains and spills.
Play the color matching game.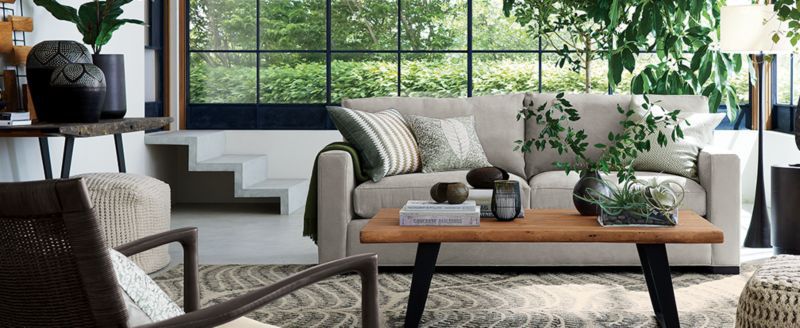 Have a grey tabby cat that sheds more than you'd like to admit? Shop for seating that's the same color as your pet's fur. You'll still want to select upholstered furniture that's pet-friendly, but this trick can help hide the hair between cleanings.
Zippers make things easy to clean.
Before you bring furniture home for good, make sure the cushions are closed with zippers. This will allow you to remove and clean any spills or stains on the spot. Depending on the fabric, certain covers can be dry cleaned, while many sofa slipcovers can be tossed in your washing machine at home.
Check out the video below from one of our partners. Inside Out supplies many of our performance fabrics. Made in the USA, these eco-friendly, quick-dry fabrics are resistant to staining, fading, mildew and pilling.
The ultimate goal is to find a piece of kid- and pet-friendly furniture that makes everyone in the house happy to use it. An added bonus? If the piece is comfortable enough for pets and kids, your house guests will find it comfortable too.