Even if you're not a dedicated follower of fashion, it's always fun to see what's considered on-trend. Below are five home decor trends that Pinterest is predicting for the year ahead, based in large part on search terms it has seen trending. That said, we don't really view these as trends: We have already adopted them and consider them timeless. See if you agree, and get tips on how to make them work for you.
The sleek curved sides of the Bryn Sideboard echo the swirls of the wood while providing an inviting contrast to the rectangular windows and artwork. That rectangular Bok Dining Table, by the way, has its own subtle curves—check out the corners and legs.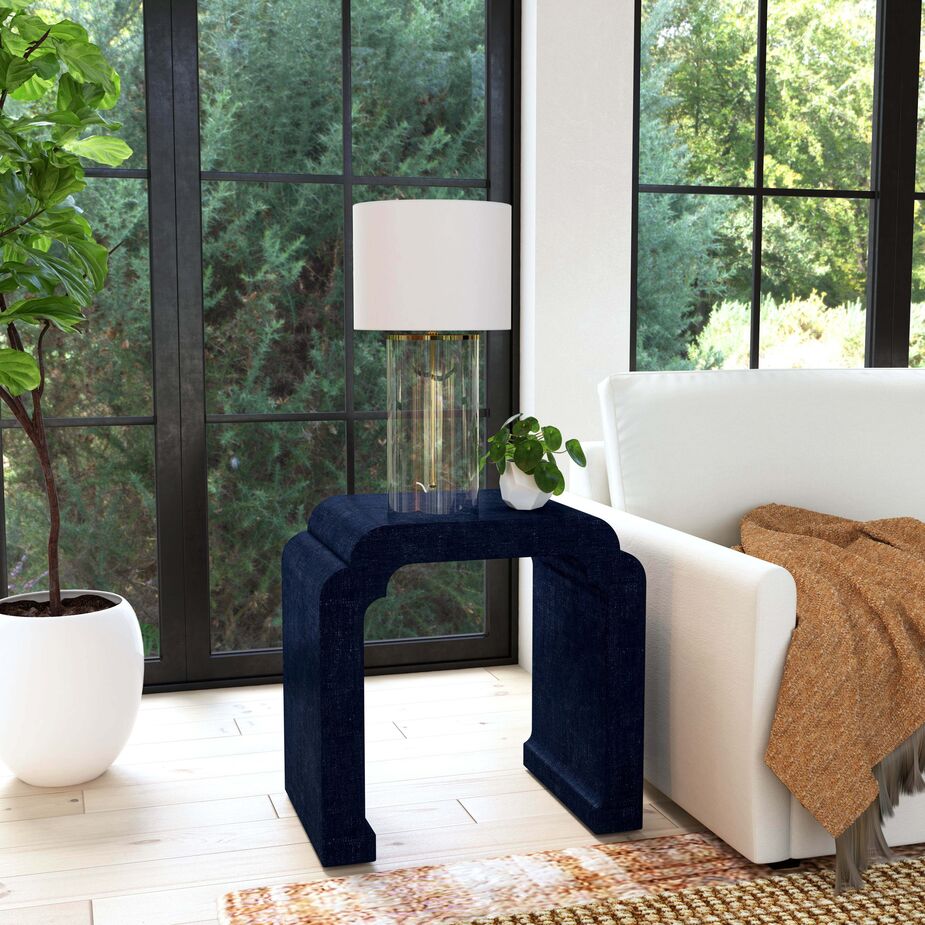 With its waterfall curves, the Kos Raffia Side Table is a subtle way to complement a surfeit of angles. The same goes for the oval planter and the cylindrical lamp. Find a similar lamp here.  
Curves in all the right places
It's not often that baby boomers, Gen Xers, and millennials agree on something, but according to Pinterest, the desire for curved furnishings is one of those rarities. It seems that having spent so much time at home during the past few years made people more aware of just how boxy the typical room can feel. Introducing curves to counterbalance an abundance of right angles and straight lines definitely makes a space feel less rigid and more fluid.
A sofa with a rounded silhouette or a semicircular sectional lets you go big with curves. If that's a bit more unconventional or more of an investment than you're ready for, try swapping out a rectangular coffee table or dining table for a round or oval one. (Round dining tables also have the advantage of accommodating more people in a small space.)
Or opt for shapes that marry curves with straight lines. A camelback sofa, a wingback chair, and furniture with cabriole legs or rounded corners are subtle ways to embrace curves. Likewise, replacing square decorative pillows with round ones, adding gourd table lamps to your nightstands, or arranging several curvaceous vases atop your mantel will round out a room.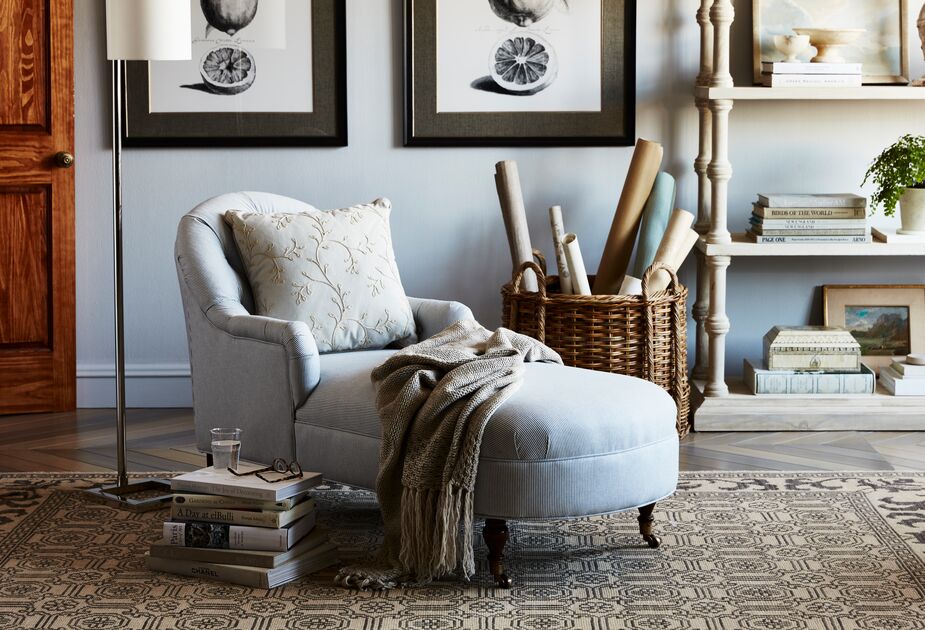 The Marlowe Chaise shows how easy it can be to add curves to a room.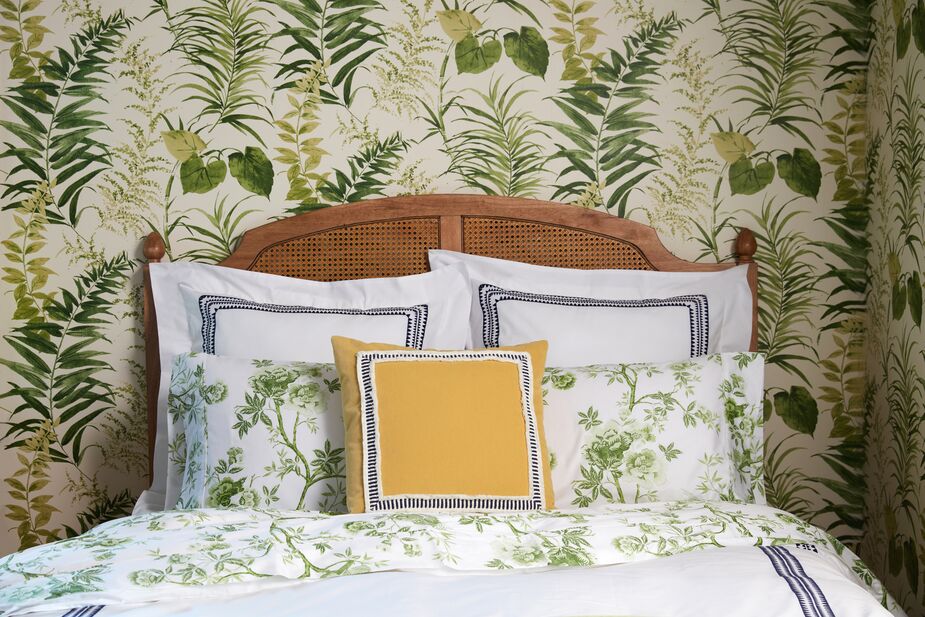 Life might not be a bed of roses, but when you sleep on the Josephine Sheet Set, you're apt to wake up feeling as fresh as a daisy.
Flower power
Biophilic architecture and biophilic design, referring to the integration of nature into human habitats, have been trending search terms on Pinterest. In layman's terms this refers to incorporating plants into one's surroundings—rooftop gardens, grounds lush with wildflowers, so-called living walls. Even adding a half-dozen potted plants onto a windowsill can be considered biophilic.
Not everyone has a home that's conducive to thriving plants, however, nor does everyone have a green thumb. Fortunately the term has also come to mean decor with flora motifs. Botanical artwork, floral upholstery and pillows, wallpaper festooned with palm leaves, and Chinese Art Deco rugs strewn with flowers are just a few ways to bring the outdoors into your home. And don't overlook faux florals!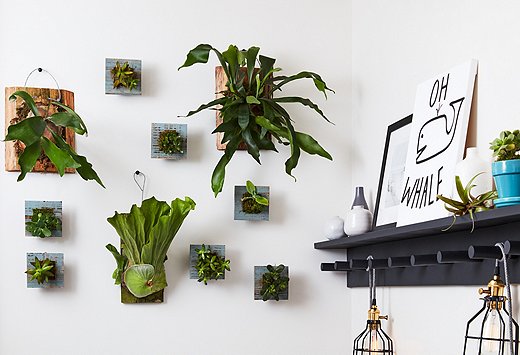 A wall of ferns and succulents is a budget-friendly way to embrace biophilic design.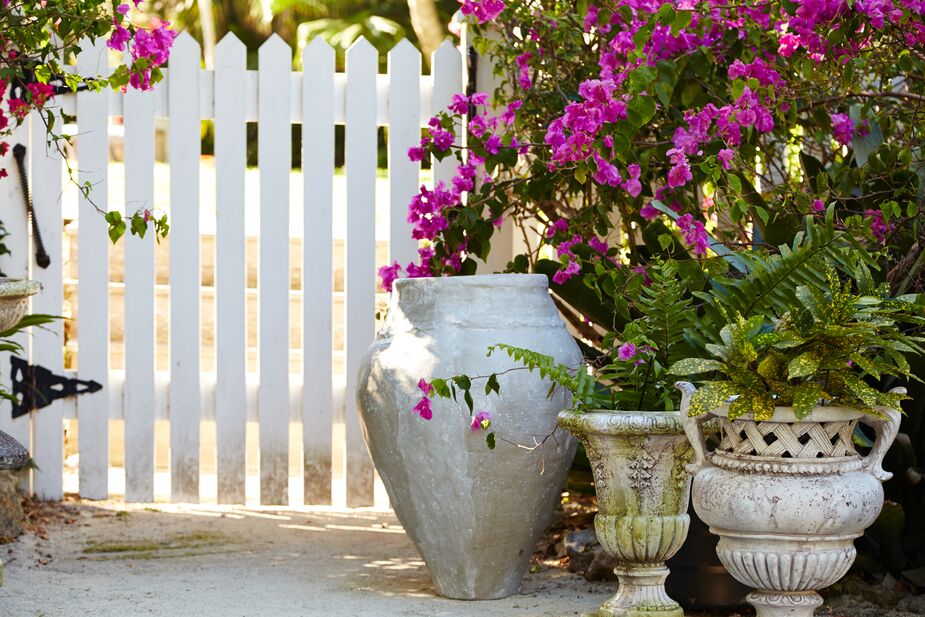 Traditional planters and statuary made of stone—or an impressive, more durable simulation such as Fiber Stone—that's been artfully aged will add Grecian grace to a home or garden. From left: Sicilian Oil Jar, Six-Sided Urn, and Weave-Top Urn.
Greek to us
An increase in searches for Aphrodite aesthetic wallpaper, Greek statue art, and Corinthian columns has Pinterest declaring that Greek chic will be big this year. Of course, Hellenistic influences have always been popular in the home, in the form of classical design: symmetry, acanthus-leaf and laurel-wreath motifs, saber legs, klismos chairs, urns, artwork based on mythology. Perhaps the simplest way to incorporate some Grecian elegance into your decor? With bedding, rugs, or other furnishings adorned with a Greek key motif.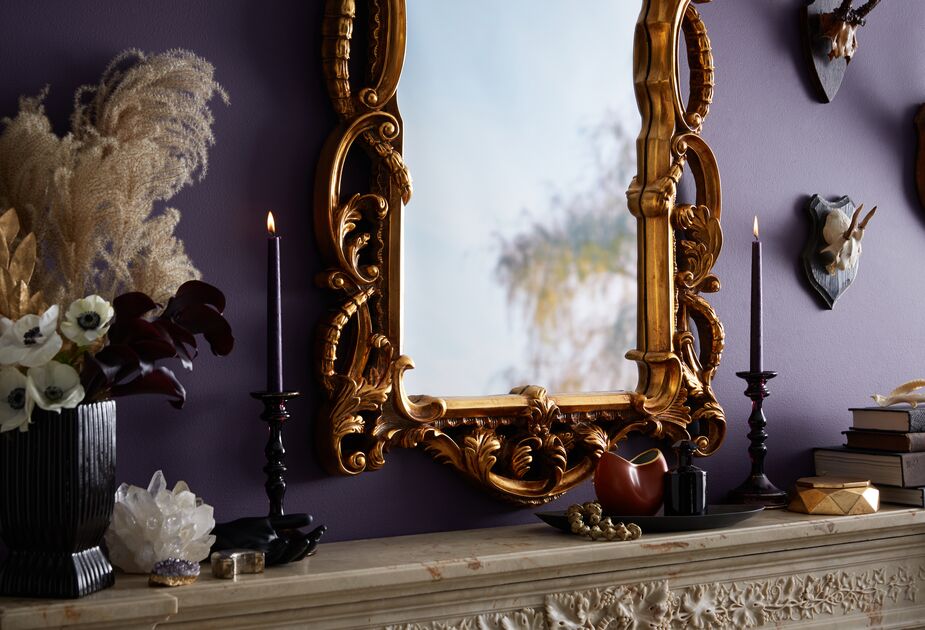 The black finish gives these otherwise traditional candleholders a goth mystique, especially with the moody wall color and the ornate mirror.
Good goth
Some might embrace goth decor to its fullest extent—skull-shape bowls, coffee tables made from coffins, skeletons as wall art—but for most of us goth decor is more a matter of embracing the dark and the moody. While a black sofa or settee isn't necessarily goth, unexpected accessories in black are: Think ginger jars, flatware, chandeliers…
Also consider adding the hallmarks of classic Gothic architecture and design, such as arched mirrors and stained-glass windows. And of course, one can never go amiss with a gargoyle or two. 
Irresistible iridescence
Pearls and pearlescence are trending not only in apparel and beauty but also in the home. Warmer than silver and chrome, subtler than gold and brass, iridescent materials such as pearls, mother-of-pearl, and horn whisper, rather than shout, luxury and glamour. Opalescent glass, as in the Vapor collection of lighting and vases, and silk have a similar shimmer.