Below we're highlighting a few of our eco-friendly favorites, as well as certain sustainable materials you might want to consider. After all, every day should be Earth Day.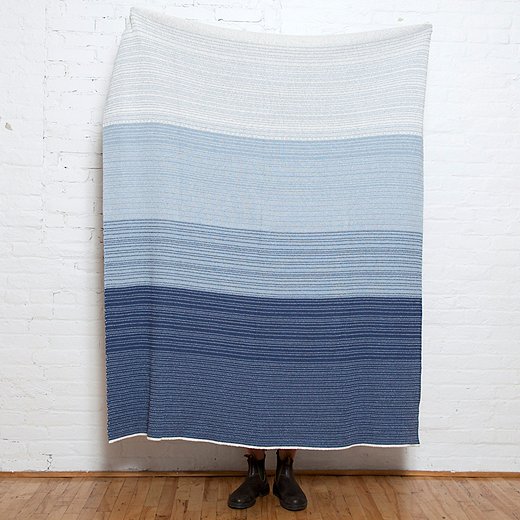 A number of In2green's throws are crafted primarily of threads made from recycled T-shirts and other cotton items.
Reclaimed and Recycled
"Waste not, want not" is more than an adage for brands that repurpose previously used materials. In2green, for example, uses cotton yarn created from discarded T-shirts to weave many of its blissfully soft throws, which come in a cornucopia of colors and patterns and are all made in the USA. What's more, its fast-drying, fade-resistant outdoor throws are made of fibers from recycled plastic bottles—more than 78 bottles per throw. Many of the indoor/outdoor rugs by Wallcorners are also constructed of fibers made from recycled plastic bottles.
All of CFC's furniture is handcrafted in the USA, and much of it is made with wood reclaimed from torn-down homes, fences, and even boxcars. Brownstone Furniture and Community incorporate reclaimed wood into some of their designs as well.  
Decorating with vintage pieces is perhaps the ultimate in eco-responsible furnishing. The breadth and depth of options regarding styles and prices is impressive—and of course, just about every room can benefit from the patina and history that vintage items carry with them.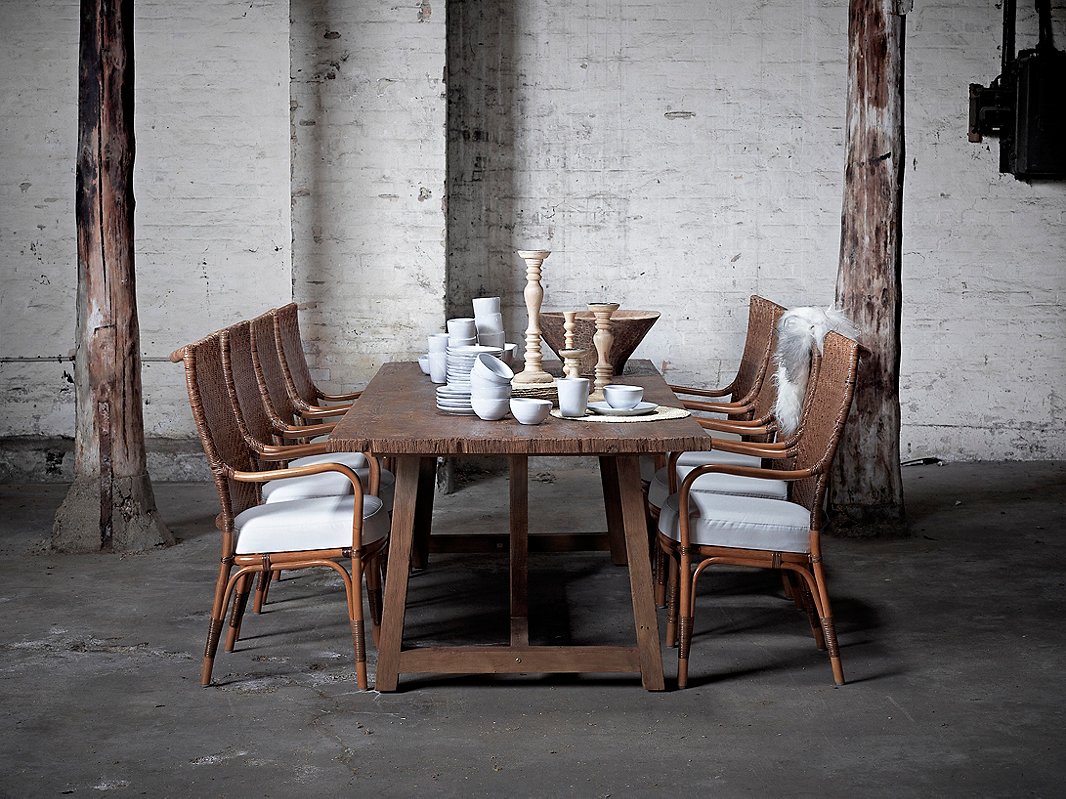 Some tables such as the Lucas above, are made from reclaimed teak. Most of its furniture, though (including the Piano armchairs shown above), is made with highly sustainable rattan.
Renewable and Responsible
Materials don't have to be reclaimed or recycled to be eco-friendly. Take rattan. This vine (technically it is a liana rather than a wood) regrows much more rapidly than trees; a adult vine can regenerate in as little as five years. And because rattan relies on trees to grow, areas where rattan is harvested are less likely to be deforested by landowners. Harvesting rattan and preparing it for use in furniture are relatively low-tech processes that require little in the way of nonrenewable resources such as oil. These are among the reasons that Sika Design makes the majority of its furniture from rattan. The company also factors sustainability into its manufacturing and transportation processes. As a result, it earned ISO 14001 certification, an international standard for environmental responsibility.
David Francis also relies heavily on rattan, as well as other fast-growing, renewable materials such as bamboo and abaca, for its furniture. Any hardwoods that it does use are plantation-grown, leaving forests intact. The same goes for Selamat. A member of the Sustainable Furnishings Council, it uses teak only from sustainably managed plantations along with rapid-growth rattan and jute.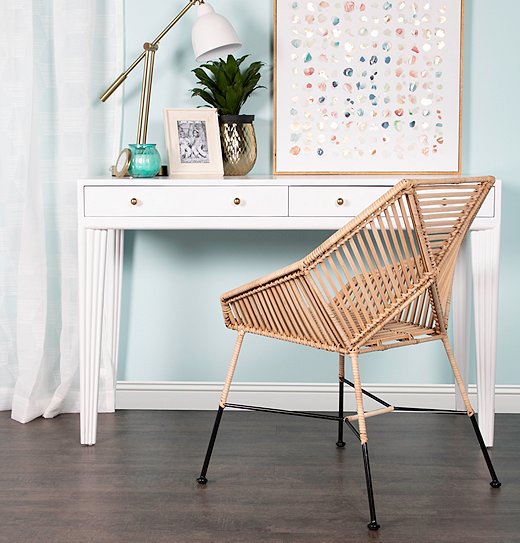 Like many of its other furnishings, David Francis's Brier side chair is made of renewable rattan.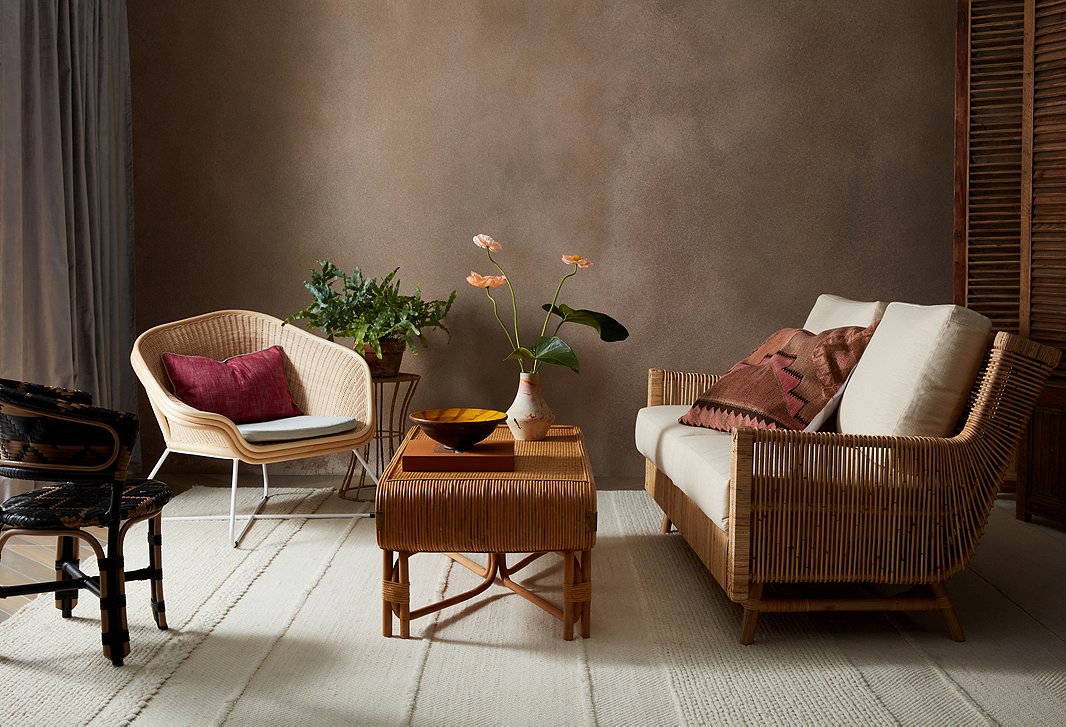 Selamat is another brand that uses sustainable rattan in unexpected ways, as seen in the Calistoga loveseat above.
Similar to sustainably managed plantations are responsibly managed forests that meet the rigorous standards of the Forest Stewardship Council (FSC). Southern Komfort is among the manufacturers that use FSC-certified wood (in its case, eucalyptus wood) exclusively. Ethnicraft has earned FSC Chain of Custody (COC) certification, which ensures that every company throughout its supply chain meets FSC standards.
Among textiles, alpaca wool is as eco-friendly as it is luxe. In Peru, where 80% of all alpacas live, they are a part of the overall ecosystem. With their slow and careful gait, they don't destroy topsoil as cashmere goats do, and unlike cashmere goats, alpacas nibble only the tops of plants, leaving the roots intact for regrowth. Alpacas drink less water and produce more wool as well, making them quite efficient.