Living room decoration wall is essential for every house because the family gathers together and spends a lot of time in the living room with each other. In addition, the living room is also used as a guest room in many modern apartment houses that are not huge enough. We all want our house to be beautiful in the eyes of our guests. According to psychology, we should care about our environment's beauty because it affects our mood and vitality. Therefore, beautifying the living room is very important as one of the essential parts of every home. Since wall decorations are one of the first things we see upon entering any room, in this article, we specifically discuss decorating the walls of the living room. So stay with us.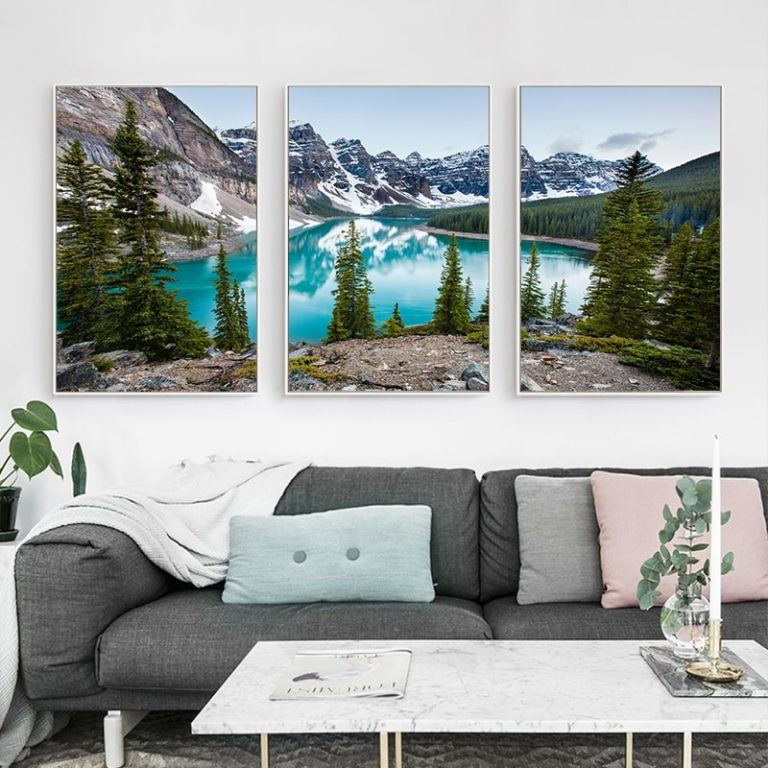 Lake Forest Stone Mountain Canvas Poster
Wall art for the living room
The importance of the design of the living room walls is evident. In addition, with the right colors and patterns and suitable wall decoration items, we can make the walls appear larger or cozier. Therefore, the use of art in the design of the living room walls is significant. Art undoubtedly attracts attention. Let a large wall art be the central part of one of the walls of your living room and witness its charm. You can choose an abstract painting or go for a minimalistic black-and-white photo; it's totally up to you. But, definitely count on art to decorate a small living room wall. In addition to saving money, creating an art gallery on the wall can be a good choice for those who wish to create variety on their monotonous walls at a minimal cost. You can change the design whenever you want. The use of paintings, photo frames, and vintage and artistic plates significantly impact the living room wall's design. It makes the effect of the space more beautiful than you can imagine. The frames can be placed on the wall in various ways, and inside them, there is a family photo or any photo and art design. Installing empty and beautiful frames on the wall, which are widely used and in so-called fashion today, gives the space a beautiful and modern look. You may also use decorative items such as mirrors and antique pendants between photo frames.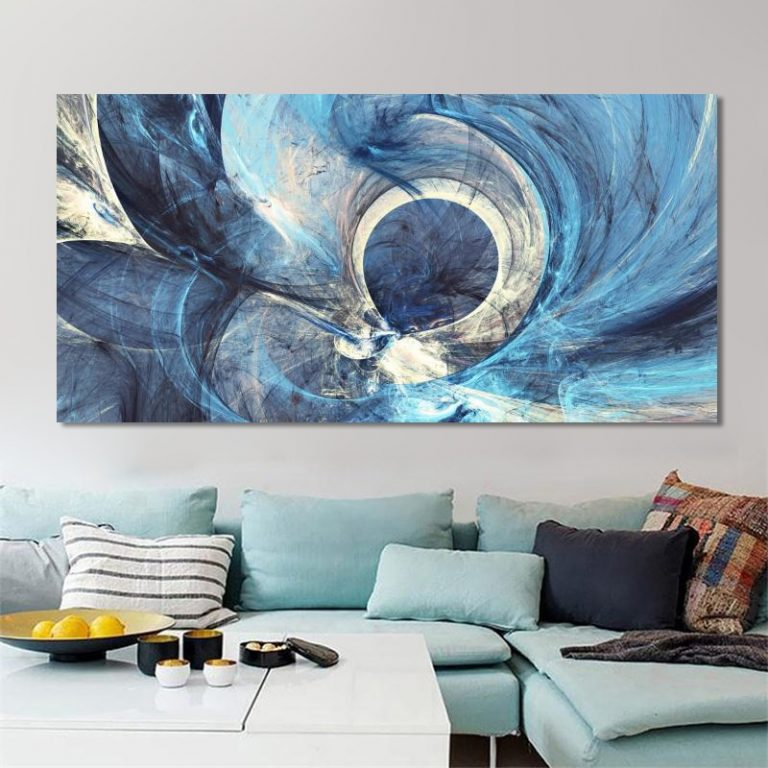 Modern Posters and Prints Wall Art Oil Painting on Canvas Abstract Creative Blue Lines Pictures for Living Room Decor
Wall paint and wallpaper
Whether you use wall paint, wallpaper, or both to cover the walls of your living room depends entirely on you, your budget, and the climate of where you live. When using paint and wallpaper, be careful to choose them based on the general style of the interior design you want. For example, you can use wallpapers with detailed patterns for traditional, vintage, and classic interior design styles. Still, it is better to use simple wallpapers or paints for minimal, neoclassical, and modern interior design styles. Note that if your living room is small, use simple wall coverings.
Painting
Painting is an extensive and widely used art. It is rare to find a house with no wall or canvas paintings. Using a unique painting can make your home wholly artistic and help your guests understand your emotions. There are three suggested ways to use the precious art of painting:
Painting on the wall: Instead of using wallpaper or simply painting the wall, you can ask an artist to come to your home and paint a design of your choice on one or two walls of your living room. This way, your living room will remain unique and distinctive forever.
Painting canvas: Paintings have unlimited variety; you can use paintings in different styles and techniques according to your taste and the interior design style of your home. The most popular canvas paintings are watercolor, oil pastel, acrylic painting on canvas, and abstract painting. Also, our suggested designs for the living room are designs such as sunset painting, landscape art, nature painting, painting with unicorn spit designs, and minimal style paintings. If your interior decoration style is modern, using paintings without frames or multi-piece and puzzle designs is better. Still, for other styles, there are also attractive frameworks.
Persian miniature painting: This unique style has been registered as one of Iran's precious cultural heritages for many years. Persian miniature paintings are not necessarily small-sized, but the word "miniature" is given to this style because the Persian miniature painter depicts minor details with minor brushes. Since each Iranian miniature painting is unique, having one of these luxurious paintings is enough for you to have a unique and luxurious living room.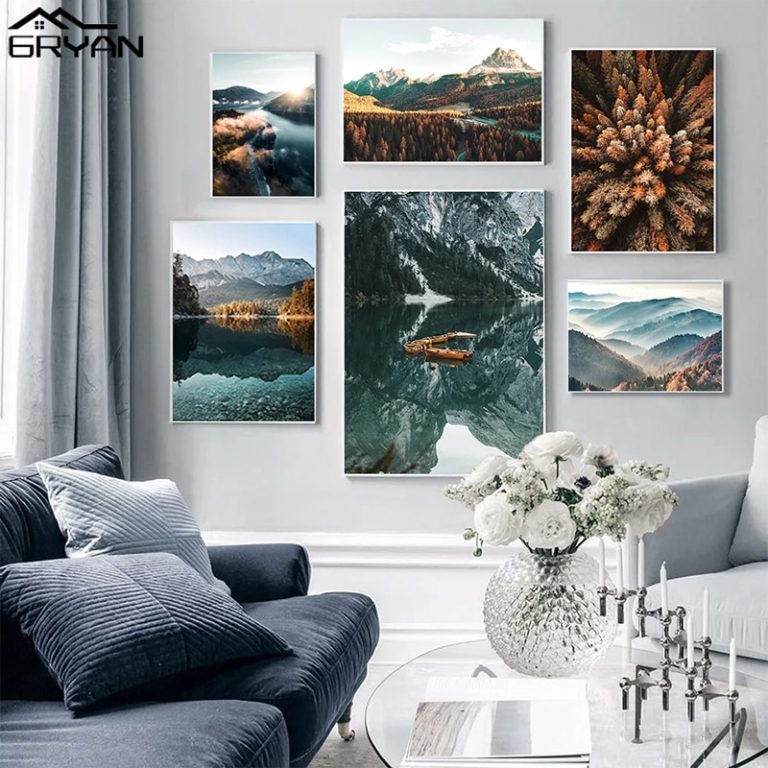 Autumn Landscape Scandinavian Mountain Lake Poster Forest Top View Canvas Painting Modern Wall Art Picture Living Room Decor
Wall rug
Wall rugs are other magnificent works of art that can bring you a grand living room. The variety of carpets includes a wide range from simple to very detailed designs that you can choose according to the interior design style of your home or living room. The excellent news is that the CyrusCrafts collection has presented luxurious hand-woven and economical machine-woven wall rugs for you with every taste and budget.
In addition to the wall rug as a framed art, you can also hang area rugs with your desired dimensions on one of the living room walls using rug hangers for the wall. This work is widespread and trendy in the style of vintage interior design.
Wall hangings
Fortunately, the wall-hanging decors are also very diverse. You can choose the right wall hanging for the living room according to its dimensions and other factors, such as the interior design style and your taste. For example, wall mirrors are one of the most attractive wall items that are beautiful and practical. They reflect light so well that your living room looks more spacious than it is. In addition, handmade accessories made of brass, bronze, and copper can be attractive ideas to create variety in a plain and boring wall. Choose the right accessories for the design of the living room wall based on the color and design of your living room. Pay attention to the coordination between the types of decorations for the living room. You can also use the wall clock to decorate the reception wall. Decorative clocks in various styles are an excellent choice for living room wall decor because they add a special touch to any decor. When choosing the wall clock size, remember that if your living room is small, you can make your interior look bigger by using large wall clocks.

Metal Wall Decoration Living Room Background Wall Decoration American Wall Hangings Porch Creative Wrought Iron Wall Decoration
Calligraphy
Calligraphy is the art of beautiful writing. Beautifully writing a sentence or your favorite poem and hanging it on the living room's wall can have a tremendous emotional impact on you and your guests. Calligraphy art has branches such as Calligraffiti, Calligraphic painting, Watercolor calligraphy, Islamic calligraphy, Calligraphy drawing, and so on. If you want the wall design of your living room to be very special, don't forget calligraphy artwork.

Islamic Calligraphy Allah Posters Abstract
Decorative plates
Decorative plates are produced in different sizes, colors, and designs. You can give a special effect to that wall by installing one or more decorative plates on the wall. Usually, the best place to install wall plates is above a 3-seater sofa or an end desk. Some decorative plates include calligraphy art, so they have a dual function. In any case, note that the living room wall decoration should not be too elaborate. The applied decorations should match the room's interior design to make the living room space ideal. One should feel relaxed from being in this environment.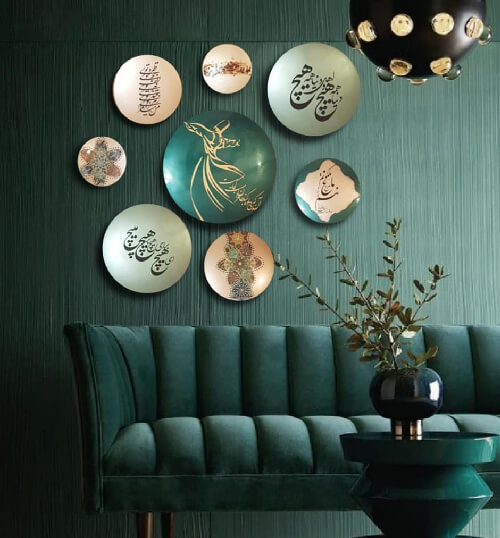 Wall lights
Even if a wall is painted beautifully and attractive decorative items are hung on it, the beauty of the color will not be visible if the lighting is inadequate. Therefore, the advice of interior design experts is to use beautiful wall lights that match the size of the wall and room. The best wall lights for the living room are up-down lights, sconce lights, brass wall lights, and crystal wall lights.
Corner of walls' design
To design the corner walls, you can use various models of corner shelves and install them in the corners of the walls. Note that these shelves should not be too large because too large will make the space unbalanced, and the items inside will look too small. On these shelves, you can use all kinds of decorative vases or other handicrafts. Also, to design the corner of walls, you can use photo frame models placed in the corner.
Please don't be afraid to change the living room. To make these changes, you must consider the necessary coordination in all decorations. Nowadays, there are many materials that you can use to design different parts of your home, such as floor, ceiling, and walls, based on your budget. In this article, we tried to give examples of these designs and guide you in building or improving your living room space, especially its walls. We want to know your opinions and valuable ideas and share them with our other audience. Therefore, we will be happy to see your ideas in the comments section of this article.