Wall art– If you're decorating a room, you might be wondering what size wall art would work best. After all, the wrong size can throw off the balance of the entire space! In this blog post, we'll explore how to choose the right size wall art for your room based on factors like wall space, furniture placement, and personal style. Whether you're hanging a single statement piece or creating a gallery wall, you'll learn how to create a cohesive and visually pleasing look that enhances your room's overall design. So if you're ready to take your wall art game to the next level, read on!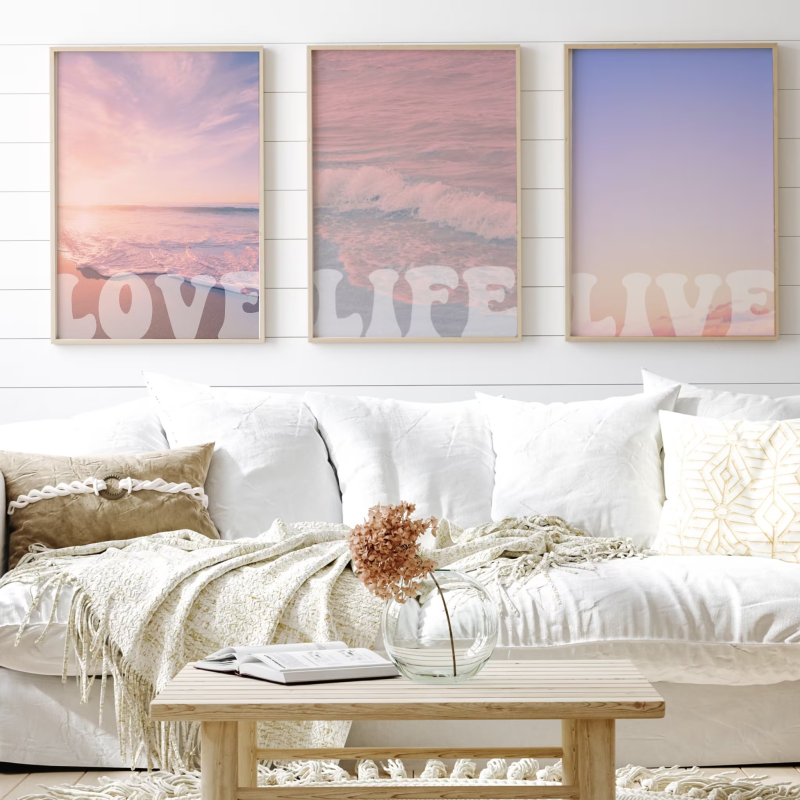 Art has the power to breathe life and character into any room. From transforming a dull, lifeless space, to making it cozy and inviting, it's a perfect way to uplift the overall ambiance of your place. Decorating your home with wall art is a fantastic way to showcase your personality and style.
Whether you're starting from scratch, revamping your old place, or looking for something to add to your existing gallery wall, it's essential that you find the perfect fit. And the right art size; that strikes a balance between aesthetics and design.
While the intricacies of calculating the right wall art dimensions may seem daunting, it's vital to do so, or your artwork loses its charm. If it's small, the space looks barren, whereas if it's too large, it appears crowded and cramped. Luckily, we've got you covered.
In this blog post, find all the tips and tricks to help you pick the right size for your space. So be it a one-of-a-kind original photograph, framed painting, or stunning canvas prints you want to hang, get ready to receive a wow factor that will leave your guests in awe. Let's dive deeper and explore all the secrets of finding the correct size to make or break your interior game.
Read the Room
Before jumping into the delicacies of determining the right dimensions, step back and read the room. Ask yourself questions regarding its purpose and overall vibe. Does it scream a big large single-panel print, or does it need a panoramic image that adds a dynamic element to the space?
While at it, visualize where the artwork will look more appealing. Would you be hanging it above some furniture, or will a whole wall be dedicated to it? Doing this would help you identify what sort of prints you need to keep an eye out for.
Reading the room would give you a heads-up regarding what proportions will work and serve as a guide that beautifully pulls the space together. One way of doing it is to put on your artistic hat, experiment with different size outlines, and compare it to figure out what works best for your place.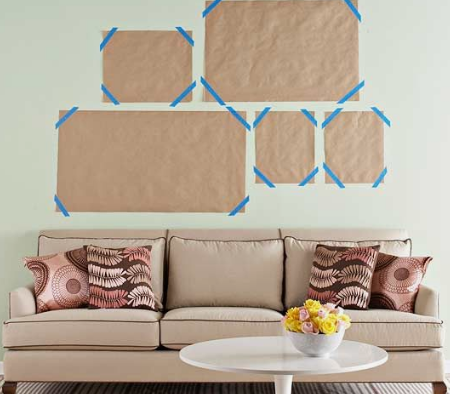 With the help of painter's tape, try different size outlines to figure out what wall art is suitable for your space. You can use post-it notes to mark the corners or utilize butcher paper of the size you have in mind. Leave it for a few days and see if you like the addition. You can also click pictures to clarify how your chosen size looks.
All this will give you a better sense of scale and dimension, aiding you in the size selection process. Play as much as you want at this stage, and explore what size of art suits your space.
The Ultimate Wall Art Size Guide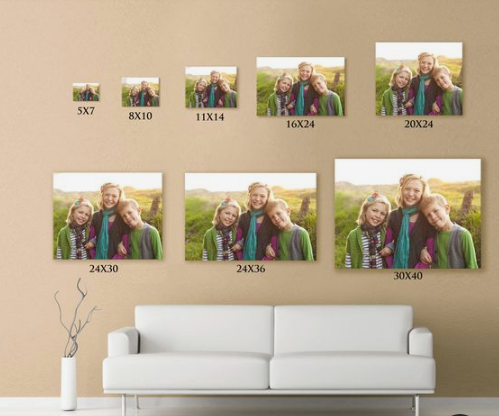 Wall art looks mesmerizing when it is in sync with its surroundings. It includes the wall space, its orientation, the height of the ceiling, and the overall interior of the place. All these factors play a huge role in determining what shape and size of art piece works best for you.
The hero of the show when it comes to canvas wall art is the canvas's size. Make sure that your art gives off a cohesive look, by factoring in the dimensions of your wall, before going on a hunt for your new favorite piece of art.
Wall Art Size Guide
From small to large art, various canvas print dimensions can suit your space.
Small canvas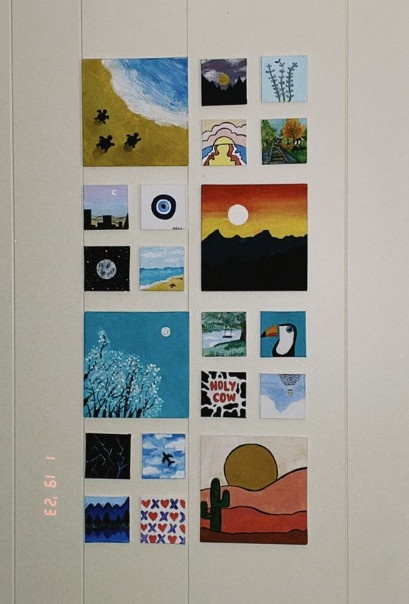 Smaller canvases can be used in a variety of spaces to add an artistic touch without overwhelming the room. Be it small apartments, workspaces, gallery walls, hallways, or narrow areas, these short, cute canvases amplify the taste of the room.
Some standard small canvas dimensions are:
6 x 6 inches

8 x 12 inches

8 x 16 inches

10 x 14 inches

10 x 20 inches

12 x 12 inches

12 x 16 inches

16 x 12 inches

16 x 18 inches

These sizes are versatile and suit various decoration needs, including framed prints. They can create a dynamic and visually appealing display that piques the viewers' interest.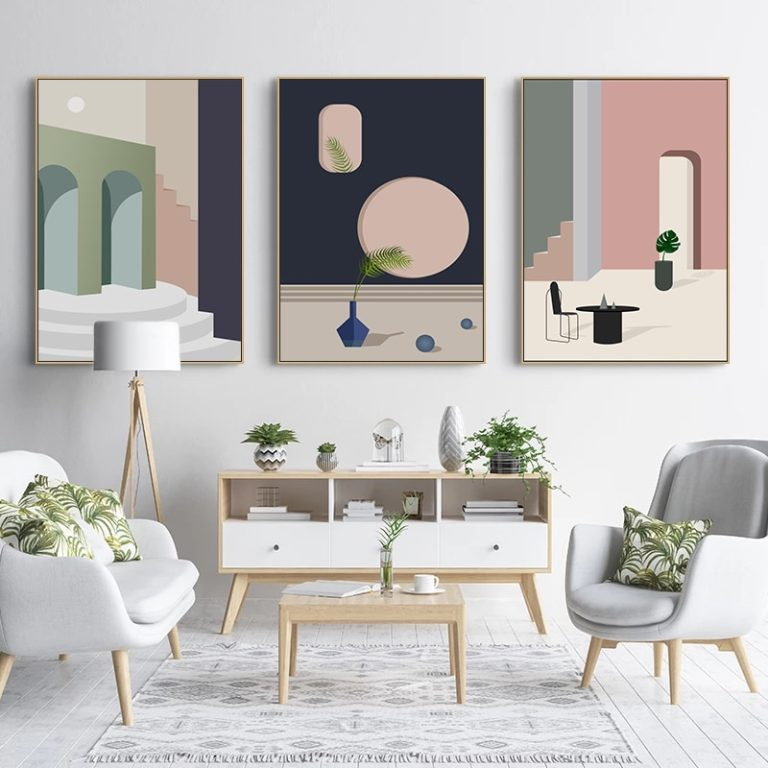 Boho Abstract Geometric Building Minimalist Canvas Painting Nordic Prints Posters Wall Art Pictures for Living Room Home Decor
 Medium canvases work great with hallways and foyers. They can create a focal point in any room, which adds visual interest to a wall. From bedrooms to living rooms, dining spaces, and offices, these canvases bring energy and excitement to any place. Some typical medium-sized canvases are:
18 x 18 inches

20 x 10 inches

20 x 24 inches

20 x 30 inches

24 x 12 inches

24 x 20 inches

24 x 24 inches

28 x 14 inches

30 x 30 inches

32 x 16 inches

Medium wall art prints can either stand alone or be grouped. They are perfect for adding a layer of sophistication without adding too much clutter to the space.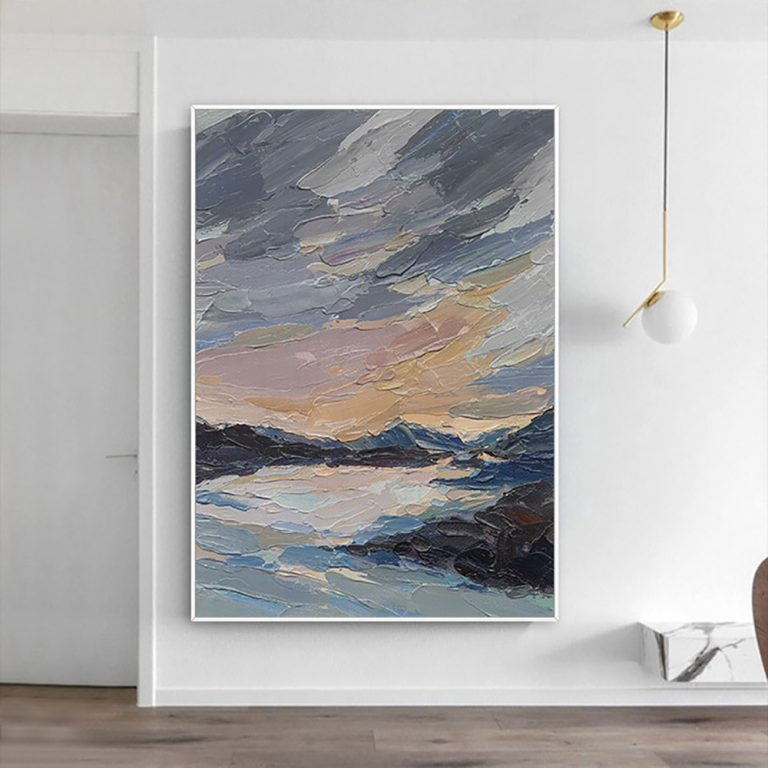 Abstract Landscape Wall Art Sunrise Mountain Valley Office Hotel Living Room Decoration Oil Painting Large Size Picture hand painted
If you have grand entrances such as a long stairway, double ceilings, or open spaces, it screams for something substantial, such as a large canvas print. These classic pieces can stand alone or serve as a balancing element for smaller canvases. Here is a list of a few hit large canvas sizes that are all the rage these days:
36 x 50 inches

36 x 60 inches

40 x 20 inches

40 x 40 inches

44 x 36 inches

50 x 16 inches

50 x 20 inches

50 x 28 inches

50 x 36 inches

60 x 30 inches

From being a great conversation starter to acting as a centerpiece that ties all the elements of the space together, big canvases are phenomenal on their own.
The General Sizing Rules
The general rule of thumb to get the perfect wall art depends mainly on the available space. A little calculation is required to ensure that the technicalities of the sizing guidelines are met. But in any case, if you don't like math, don't worry; we have another alternative for you.
Things you'll need
Measuring tape

Calculator

Notebook

Pencil

Hanging wall art on a blank wall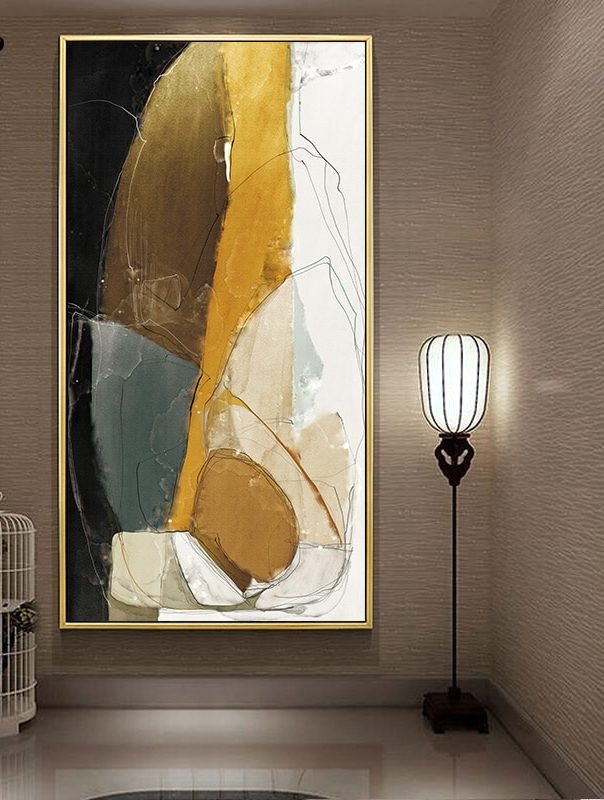 Yellow Geometric Abstract Canvas Poster Print Modern Wall Art Painting Artwork Minimalist Picture Living Room Corridor Decor
If you plan to hang the prints to fill a big space on an empty wall, choose wall art that takes at least about 60% to 75% of the available wall space, i.e., three-fourths of your wall. Doing so will ensure that the prints align with your room's layout and overall style.
Follow these tips for choosing the right dimensions of the art for an empty wall.
The first and foremost step is to measure the width and height of your wall and then multiply for calculation, as mentioned below. With the help of a measurement tape, measure the height, and note it down. Repeat the process for the value of width. Recheck it to ensure that no mistake has occurred. Once you have the measurements, proceed to the next part. The foolproof way for calculating the right size is discussed below:
For instance, your living room wall is 9 feet tall and 5 feet wide.

Multiply 9 by 0.6 and 0.75 to get a lower and upper limit for the height. In the above case scenario, your artwork height ideally should be between 5.4 – 6.75.

Multiply the width of the wall by 0.6 and 0.75 to get a minimum and maximum limit for the width. With 5 feet width, your wall art should take between 3 – 3.75 feet.

If the thought of doing math sends you running in an opposite direction, drop the equations and factor in one thing only, the piece of art should take up at least 60% of the wall space.
As far as the placement is concerned, hang the wall art with the museum's hanging rule in mind, i.e., the artwork should be 57 inches from the floor so that it is at an appropriate eye level and can be admired comfortably.
Hanging art over furniture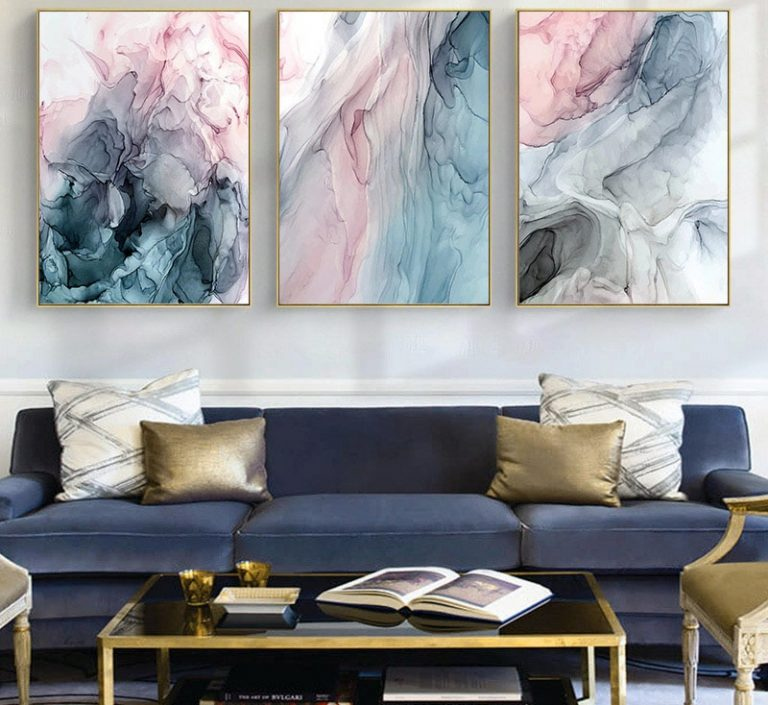 Colorful Ink Abstract Wall Art Canvas Poster and Print Modern Artwork Picture Painting Contemporary Nordic Home Room Decoration
If you want to create a focal point on a large wall that anchors the room and contemplate hanging art above a piece of furniture, such as a sofa, fireplace, or bed, keep a few things in mind. If the furniture is sparse, a big piece of artwork will do wonders as it'll fill the gaps. In contrast, small canvases might be the ideal choice if the space has little room to breathe. You need to understand the space before inculcating any artwork to ensure it vibes with the place. A distance of 6 to 12 inches is advisable above the furniture for displaying the wall art.
Follow these simple steps to get an accurate measurement for hanging artwork over a piece of furniture.
Let's say you're hanging it above the bed; remember that the ideal size for hanging prints above a furniture piece is between two-thirds and three-fourths of the width of the furniture. For example:
Suppose that the width of your bed is 5 feet.

Multiply 5 by 0.66 (two-thirds) and 0.75 (three-fourths) to get the margin value under which your artwork's width should lie.

In the above case, the ideal artwork width size that complements the furniture is between 3.96 and 4.5 feet.

When hanging art above furniture, the options are endless. Some people choose to hang it above a fireplace, whereas others favor the sofa or dining spaces. Regardless of what modality of furniture you select to display your art above, choose the right size that goes with the flow.
Hanging art above a fireplace
For hanging above a fireplace, a popular option is to choose artwork smaller than the mantle's width but wider than the fireplace's opening. Make sure that your art is displayed at least 3 to 6 inches above the mantle.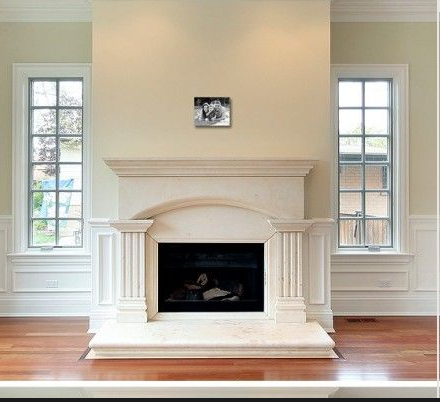 For instance, check the above picture of a fireplace. It shows a small size art above the fireplace. Does it look appealing? No. Does it connect the space? No. This is what happens when the size isn't right.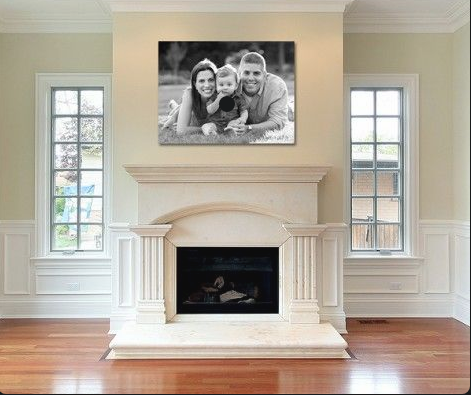 On the other hand, look at the above photograph. Does the size align with the rules of hanging wall art above furniture? The fireplace in this picture seems appealing and creates a feeling of warmth and coziness. That's the power of size.
Choose The Best Size Artwork For Your Space
Wall art looks beautiful and charismatic and creates a refreshing, welcoming space for the soul. By now, you're equipped with all the tips for choosing art that is the correct print size for the walls in your home. Take help from the above guide and create a unique, inviting display of stunning wall art that enhances your existing decor.
If you're looking to turn your favorite photos into stunning wall art, check out The Canvas Prints. Our easy-to-use online service allows you to upload your photo, choose from a range of styles and sizes, and receive a high-quality canvas print delivered straight to your door. Whether you're looking to decorate your home or give a unique and personal gift, we have got you covered.