If you're setting up a home office, you will want to look for home office ceiling light ideas to upgrade your workspace. Designing a lighting plan for your home office might seem complicated, but it's just like designing lighting for any other room in your house. You'll need to think about having lights that give the room an overall glow, as well as lights that are good for specific tasks like reading or typing. And if you want to show off any cool features in your office, you might want to add some accent lights too! By getting all these pieces working together, you'll have a great-looking and functional home office.
Should Home Office Ceiling Light Be Bright or Dark?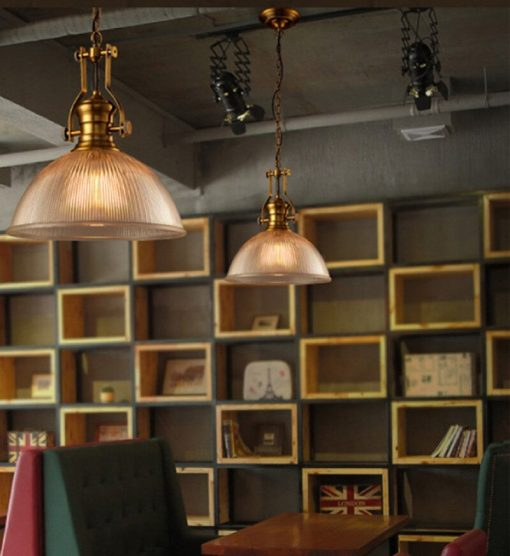 It's best to aim for a balanced and well-lit environment. A workspace that is too dark can strain your eyes and make it difficult to concentrate, while a workspace that is too bright can be harsh and uncomfortable. A good rule of thumb is to have enough light so that you can see clearly without any glare or shadows, but not so much light that it's overwhelming. You might also want to consider your personal preferences and what type of work you'll be doing in your home office.
What Light Color Temperature Is Best For Home Office?
When we talk about color temperature, we measure it in Kelvin. Here are some numbers to remember:
Warm white light: 2,700 Kelvin
Neutral white light: 3,300 to 6,500 Kelvin
Daylight white light: over 6,500 Kelvin
If you're looking for lighting that's good for studying or working from home, you'll want something that's at least 4,000 Kelvin. Bright light with a lot of blue in it can help you stay alert and focused.
What Kind of Lights Should I Use in My Workspace?
LED lights are a great choice for your home office because they're energy-efficient and last a long time. Plus, they give off a steady, flicker-free light that's easy on your eyes. Some LED lights even come with a "warm-dim" feature that lets you adjust the color temperature to match the lighting outside.
Also, read CEILING FAN: HOW TO CHOOSE THE RIGHT SIZE FOR YOUR ROOM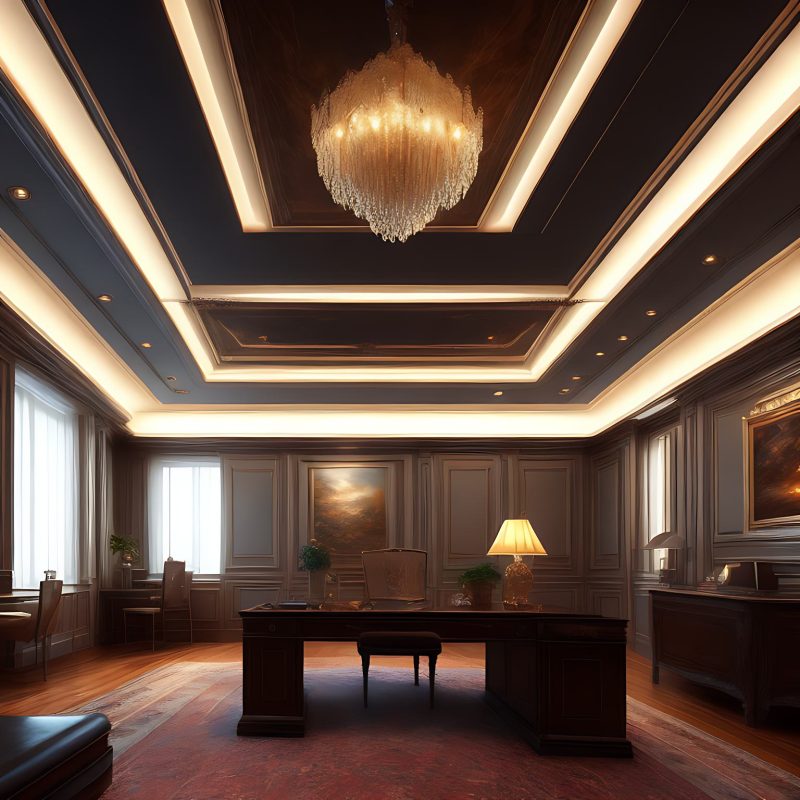 You can successfully mix and match different designs of home office lighting, but following the lead of Dublin and London-based Sara Cosgrove Studio may be helpful. They used a combination of ceiling and desk lights that repeated the same colors and materials, resulting in a sophisticated yet subtle effect.
In this particular home office, the metal of both the ceiling and desk lamps echoed the material used in the bespoke cabinetry. This added a touch of elegance and gentle highlights against the rich shade of the flooring and chair upholstery, the wood of the desk, and the darker tones of the walls.
2. Harmonize Ceiling Lighting With The Room's Decor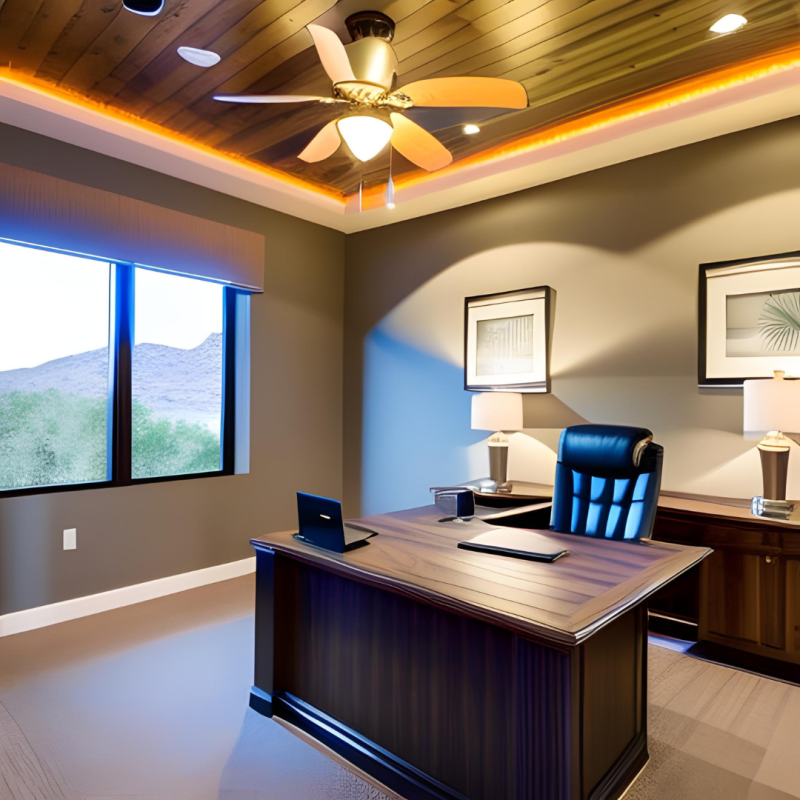 When choosing a ceiling light for your home office, it's important to consider how it will harmonize with the decor of the room. For a more natural and calming ambiance, opt for a light-filled space with pale colors.
California-based interior designer Ohara Davies-Gaetano took inspiration from the garden outside the home office when decorating the room. She selected hues that highlighted the textures and tonalities of the gravel, old stone, and shades of planting. As a result, the ceiling light in the room is understated in style but harmonizes with the palette of the space and its elegant curves are pleasing to the eye.
3. Layer Home Office Lighting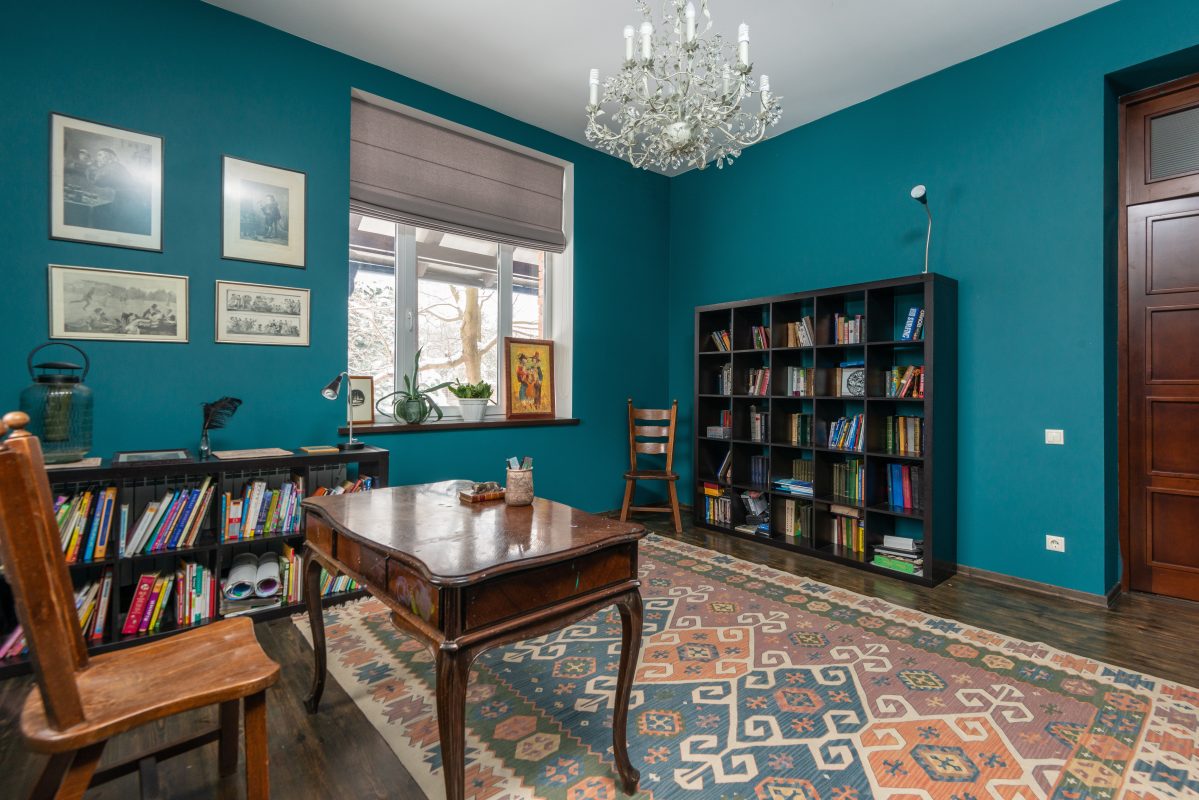 Consider utilizing natural light and incorporating different types of lighting, including ceiling, desk, and wall lights.
According to Benjamin Johnston of Benjamin Johnston Design, multi-layered lighting is crucial for a workspace. This can be achieved through a combination of natural light, ceiling lighting, and task lightings, such as floor and table lamps. This approach allows for a well-lit workspace that can be productive both day and night. So, be sure to keep this in mind as you plan your home office lighting ideas, or work with an interior designer.
4. Team Wall Lights With Bespoke Joinery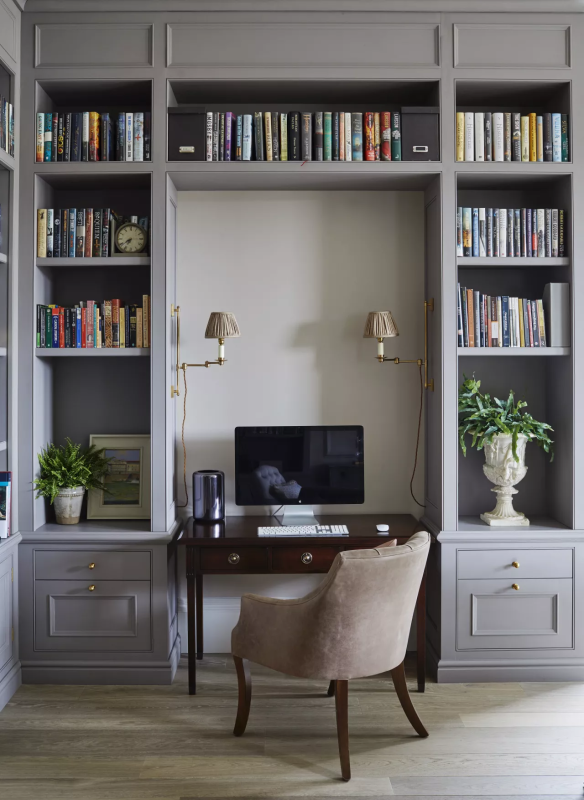 If you're working with limited floor space in your home office, bespoke joinery can be a great way to maximize the area. This includes built-in desks or niches for freestanding designs. To accompany this setup, wall lights are a great option for task lighting, rather than relying on a floor or desk lamp.
Design director Louise Wicksteed of Sims Hilditch recommends downlighting for working areas installed in bespoke joinery. This alternative provides ample light during the evenings and darker months. So, consider teaming wall lights with bespoke joinery when planning your home office lighting scheme.
5. Use Home Office Lighting With A Pop Of Color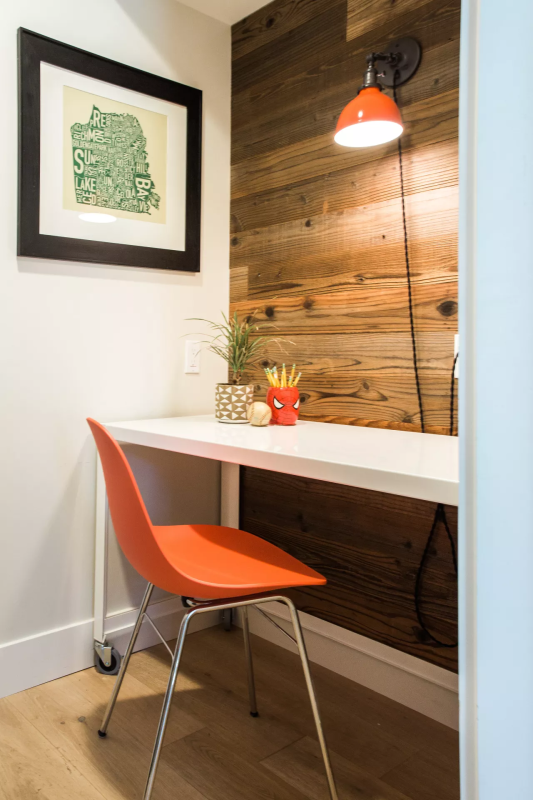 Consider incorporating natural light into your home office design, along with artificial lighting options such as desk lamps, ceiling lights, and wall sconces. According to interior designer Benjamin Johnston of Benjamin Johnston Design, using a variety of lighting sources allows you to be productive day or night. With a multi-layered lighting scheme, you can combine natural light with task lighting to ensure you have ample light for your work. So, whether you're working during the day or burning the midnight oil, you'll be able to stay focused and productive in your home office.
6. Factor In Daylight As Well As Artificial Illumination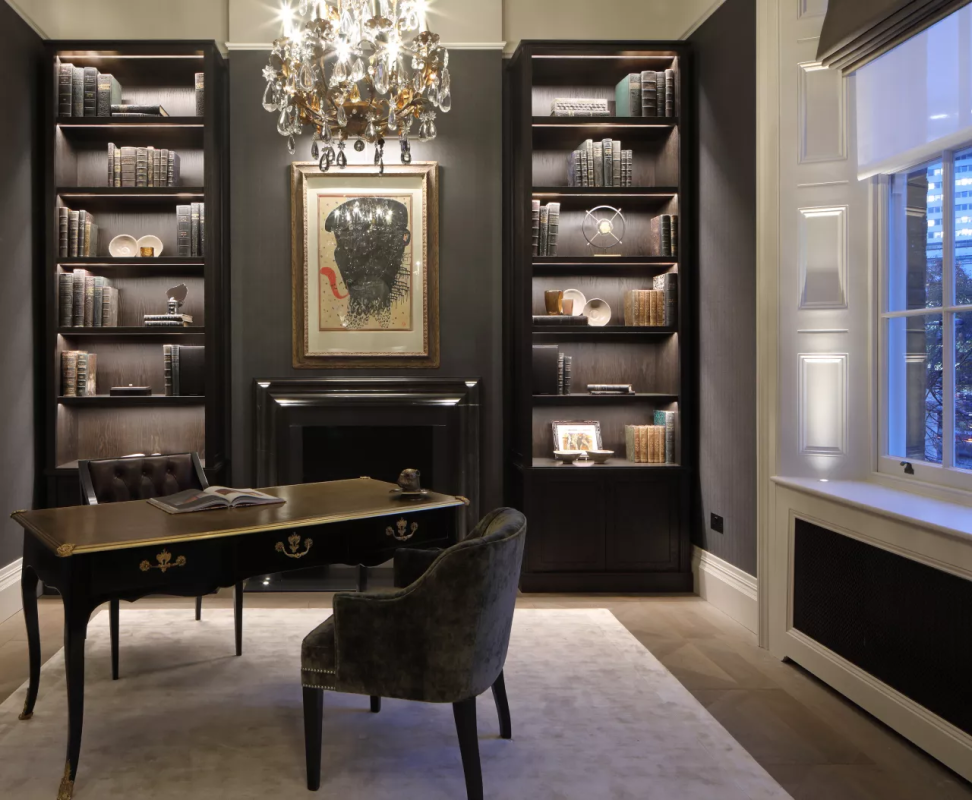 According to Sian Parsons, design associate at John Cullen Lighting, your home office lighting ideas should aim to achieve good general light that is pleasing to the eye while also providing task lighting. It's ideal to set up your workspace in an area close to natural daylight whenever possible. Natural light from the sun is the most effective at filling a space with light, balancing any dark or bright spots caused by artificial lighting, and boosting your mood from a human-centric perspective.
7. Work The Angles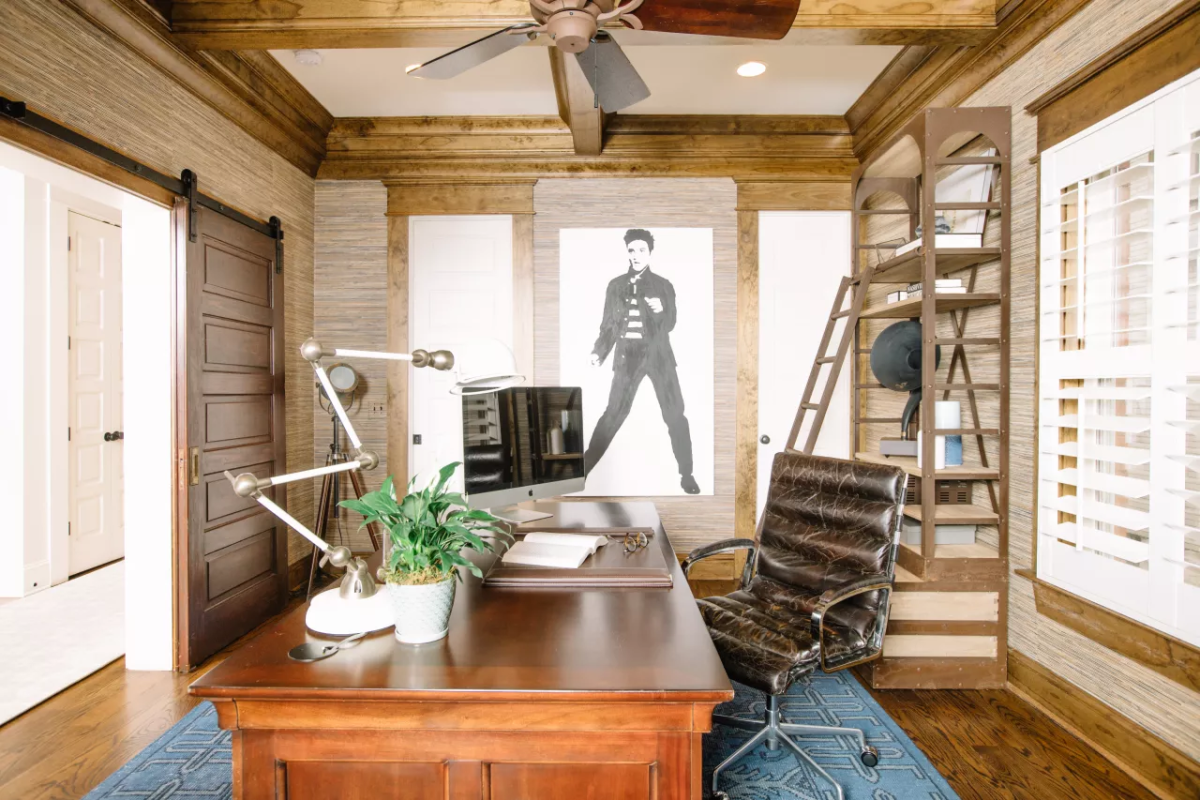 Opt for a desk lamp with an adjustable arm if you engage in different tasks at your desk, as it allows you to move the light source according to your needs. This home office's desk lamp offers flexible positioning while also blending in with the room's overall design. According to Jessica Davis, owner and principal designer of ASID Allied JL Design, "This progressive traditionalist office features an Elvis painting by a local Nashville artist named Inez."
8. Swerve Eye Strain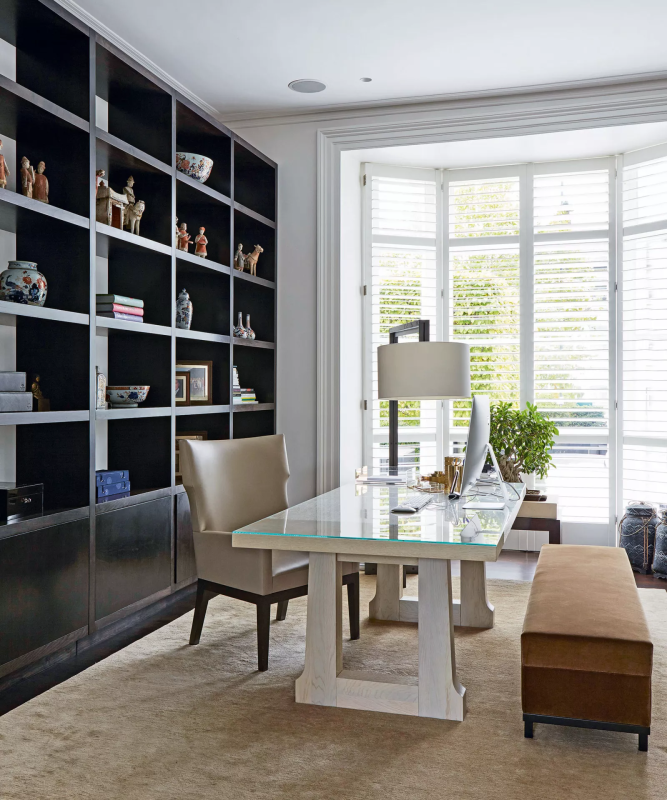 The paint colors used in a home office can impact the brightness of the room. Therefore, it's important to choose appropriate home office lighting ideas for ceilings, desks, and walls that match the color of the walls. In darker spaces, it's important to avoid creating discomfort and eye fatigue with the lighting.
Sian Parsons advises, "Make sure the general light in the room is low-glare to prevent strain on your eyes from glare spots caused by light fixtures, as well as the glare emitted from your screen."
9. Consider Working Hours When Planning Desk Lighting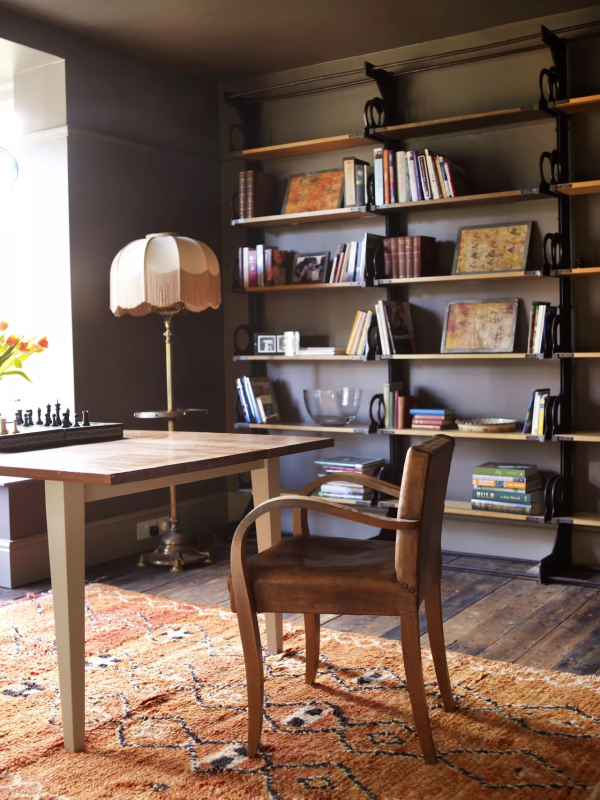 When setting up your home office desk, it's important to have task lighting that suits your needs and work hours. According to Sian Parsons, it's essential to consider the tasks you'll be doing and when you'll be doing them to ensure the lighting solution is customized for your specific home-working situation.
For a well-lit workspace, it's best to go for a decorative fixture that provides an even glow of light without any harsh spots. "Whether you have space for a lamp or a wall light, consider something shaded or opaque," suggests Parsons.
A floor lamp can be a practical and chic alternative to a table lamp for a desk. In this room, a statement floor lamp illuminates a desk shared by two people, creating light across the surface they both occupy. The design of the room maximizes natural daylight with a glass-topped desk that avoids blocking it, and pale flooring and white shelving that reflect it rather than absorbing it like dark colors would.