Monogrammed accessories are a must-have for grandmillennials. While monograms may have once been seen as a dated or perhaps stuffy design element, true lovers of classic design know there is nothing more elegant. To help you master the etiquette of monogram use, we've put together a handy little reference guide. 
Historically monograms were used only by the wealthiest members of society. They often included clues to the person's place in the aristocracy and familial history.  
Historical Highlights
Monograms have signified ownership throughout history—think of them as the earliest form of personal branding. In the Middle Ages, artists used them to mark their work and kings their currency. This practice proliferated throughout the highest ranks of society and reached its cultural zenith during the Victorian era, when the elite put their initials on anything and everything, developing a subculture of rules and taboos.
Meanwhile, artists introduced accompanying motifs so that each monogram was more akin to artwork than a label. Common motifs include botanical elements such as flowers and vines, regal elements like flags and crowns, and animal elements. Today many well-to-do couples combine monograms and motifs into custom watercolor crests, complete with design elements meaningful to them both.
Style Guide
Among the most popular monogram styles: A single initial is the most timeless, indicating ownership without frills or complications. For maximum impact, opt for a larger font. Double monograms are commonly used for a person's first and last names, but they can also consist of the first initials of a married couple. Traditionalists, however, say that the only proper joint monograms for couples should show their shared surname (see below).  Block monograms are perhaps the most popular, and three-letter versions are the most common of these. Etiquette dictates that the initial of the first name should be on the left, the middle initial on the right, and the initial of the surname between them, in a larger font. If you want all three initials to be the same size, then swap the positions of the middle initial and last-name initial. In cases where the individual has two middle names or a hyphenated last name, etiquette dictates showing all four initials across in order of appearance with no size change. Often with block monograms, the tendrils of each letter are interwoven with each other, resulting in what is called an interlocking monogram.  Stacked monograms are used for individuals; the first and middle names are placed on top of each other, and the initial of the last name stands next to it. This style works well on luggage tags or fobs that have relatively little room.  Joint monograms are typically used only by married or formally partnered people. Traditionally the initial of the wife's first name went first, followed by the initial of the couple's last name, with the initial of the husband's given name last. Modern couples may wish to change that format or even opt for a stacked monogram.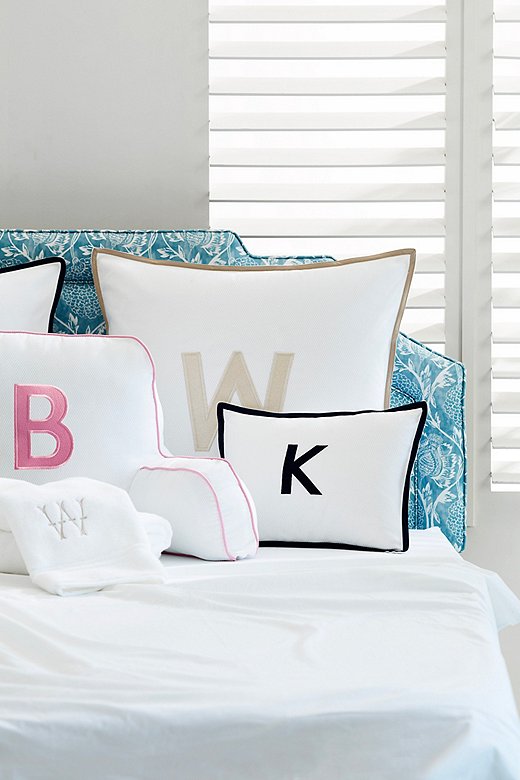 Monogrammed pillows and towels make great gifts for college students, as they give a dorm an added layer of personality.