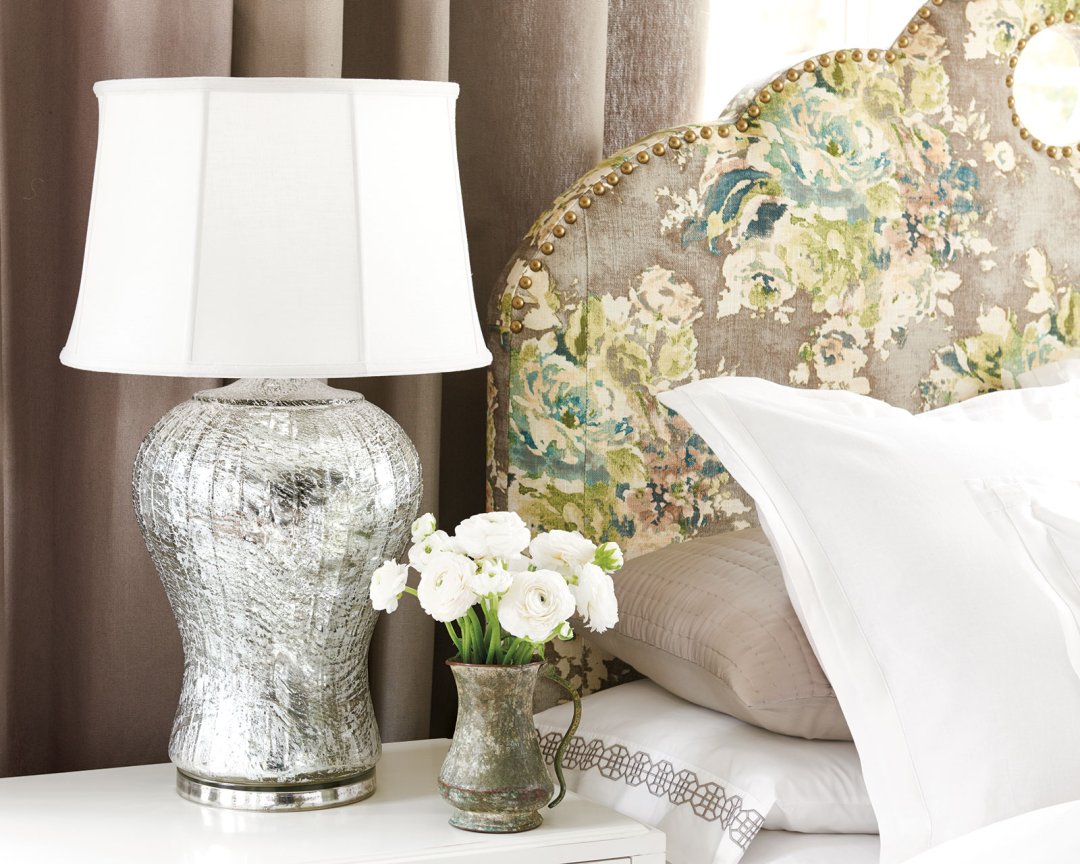 How do you choose the right lamp shade? Picking the perfect shade for your table or floor lamp is all about scale, style, and supporting your lamp base. So it has to fit the place and occasion, complement without overwhelming, and draw just enough attention to be noticed. While it may be intimidating, learning how to measure a lamp for a shade will guarantee the perfect outcome. Follow our choosing a lampshade guide so you can feel confident in your choice.
Flatter the lamp base
The first thing you do when you're trying to choose the right lamp shade is to look at your lamp. What's the general shape?
If your base is round, then a round shade usually works best.
A square or angular silhouette tends to look better with a square shade.
Of course, there are always exceptions to any decorating rule – candlestick lamps, with their combination of curves and angles, can handle just about any shape. And, if your lamp is square and your table is round, a round shade can complement both.
Measure lamp for shade size
So now that you know your Lamp base shape, it's time to grab a tape measure. Here are our guidelines for how to measure a lamp for a shade:
Your shade should be about two-thirds the height of your lamp base (give or take an inch).
Proportion is the key – too tall and the effect will be top heavy, but too short and your lamp will look out of balance.
Just like a slip, you never want your harp to show. So if your lamp sits on a mantel or close to eye level, this is especially important.
To choose the right lamp shade width, measure your lamp base and multiply by two. For a round base, measure straight across; measure diagonally for a square base. The widest part of your shade should be at least a half-inch wider than the widest part of your base on each side.
And when you're considering width, don't forget location. So if your lamp is going next to a bed or in a busy hallway, pick a narrower shade to avoid flying elbows.
How to choose the right lamp shade material
Translucent or Opaque?
Well, It all depends on what you want your lamp to do. Translucent shades of sheer fabric, paper or alternative materials are great for reading and adding ambient light to your room.
But Opaque shades of silk, thick parchment or laminated card will direct light in defined, up-and-down beams, perfect for highlighting objects and setting a mood.
Choose smooth, pleats or a shade more daring!
Now we're talking fashion. Smooth shades say cool, refined and contemporary.  But Pleats are cozier, more traditional and tend to pair well with antiques. And custom details like embroidery, decoupage and paint can transform your lampshade from accessory into a show-stopping focal point. Add your own personal style with lighting accessories like finials, cord covers, crystals and more.
10 Shortcuts to Choose the Right Lamp Shade
Round lamp base –Choose a round or hexagonal shade.
Square or angular base – Opt for a square shade.
Can't decide on a shape? When in doubt, go empire!
Shade height – Your shade should be 2/3 the height of your base.
Shade width – Your shade should be twice the width of the base.
Pleats say traditional.
Smooth leans contemporary.
Your lamp neck, harp, and all hardware should be hidden underneath the shade.
If you can, take your lamp with you shopping.
Mix opposites to make a contemporary statement
The Anatomy of a Lamp Shade
How to Measure Shade Heights for Replacement
Four dimensions are important when measuring for shade replacement; top and bottom diameters, depth and drop. The following diagrams illustrate the necessary measurements.