You know their names. Maybe you've purchased furniture upholstered with their newest fabrics or pillows made with vintage designs. But you might not know the stories behind the luxury houses that for generations have created some of the world's most coveted textiles. Below, we explore the histories of five favorites.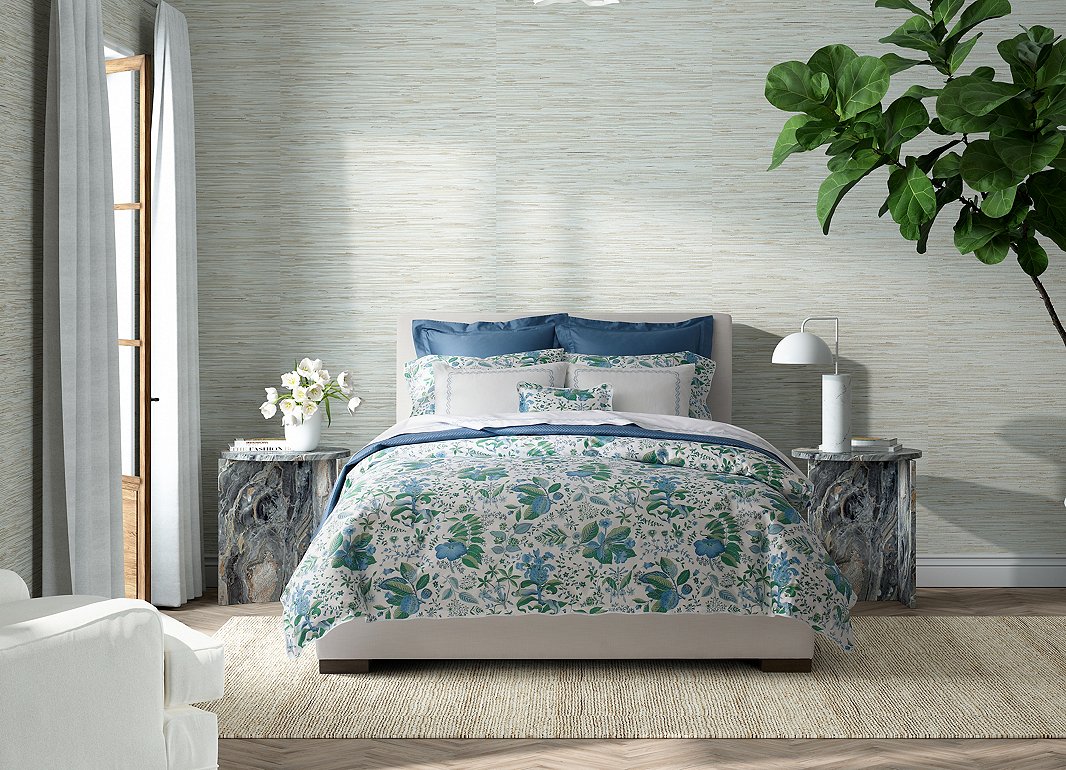 Schumacher
If you don't find it impressive that Schumacher has been around since 1889 (originally as F. Schumacher & Co.), what about this: It's the only U.S. textiles house dating back to the 19th century that is still owned and operated by the founder's family. The original F. Schumacher, Frederic, emigrated from France to New York in 1889 and set up shop selling fabrics to the owners and decorators of Gilded Age mansions and luxury hotels. Decor professionals Edith Wharton (yes, that one) and Elsie de Wolfe were fans. Ditto heiress Marjorie Merriweather Post, who used Schumacher textiles throughout her Palm Beach abode, Mar-a-Lago, and the Vanderbilts, whose Breakers "cottage" in Newport, RI, also features Schumacher fabrics and wallpapers.
Designer Dorothy Draper, photographer Cecil Beaton, artist Saul Steinberg, and architect Frank Lloyd Wright are among the luminaries who have created designs for Schumacher. More recent collaborators include A-list designers Celerie Kemble and Mark D. Sikes. Another recent collaboration has been with fellow American heritage brand Matouk. The Matouk Schumacher Collection consists of bedding that incorporates time-honored Schumacher designs.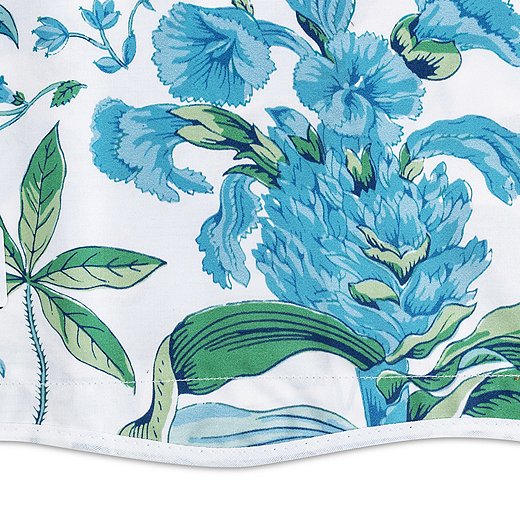 A close-up of Schumacher's Pomegranate in Sea (also shown at top), part of its bedding collaboration with Matouk. This pattern from the Schumacher archives was inspired by an 18th-century design.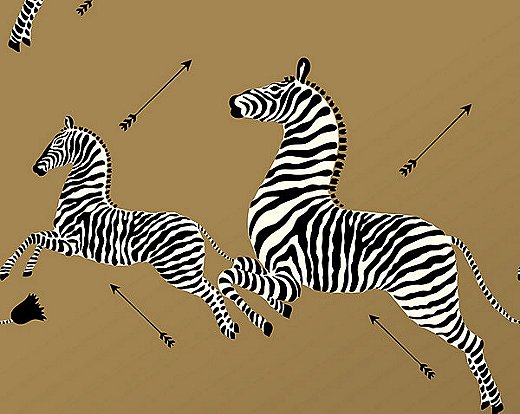 Perhaps Scalamandré's most famous print, Zebras was designed in the 1940s for the walls of New York's Gino of Capri restaurant. Flora Scalamandré, wife of company founder Franco, drew the original prancing zebras herself.
Scalamandré
Like Schumacher, Scalamandré was founded by an immigrant from Europe. Franco Scalamandré fled Fascist Italy in 1923, settling in New Jersey. Three years later, he began producing woven silk fabrics. When in 1929 publishing mogul William Randolph Hearst asked for a particular brocade to look older, Scalamandré dyed it in his apartment bathroom and left it to dry outside. The next morning it was covered in snow—which created the aged look Hearst requested. He used it to decorate his California castle, and the company continues to produce what it named San Simeon Brocatelle.
Scalamandré also still produces fabric and wallpaper it crafted for the restoration of the one-time home of President Andrew Jackson, a reproduction of a 17th-century design. The White House, New York's Morgan Library, and Boston's Isabella Stewart Gardner Museum are just a few other notable buildings that have been decorated with Scalamandré designs.
Fortuny
Fashionistas know Mariano Fortuny for his groundbreaking dress designs, including the Grecian Delphos gown he created with his wife. Opera buffs and theater historians know him for his stage-lighting breakthroughs such as the Fortuny cyclorama dome. And decor mavens know him for his artful fabrics. Born in Spain in 1871, the son of an acclaimed painter, Fortuny moved with his family to Venice in 1889. It wasn't until 1907, though, that he established his textiles business. Among his innovations was a method of treating his hand-printed cottons that gives them a distinctive sheen—and remains a company secret.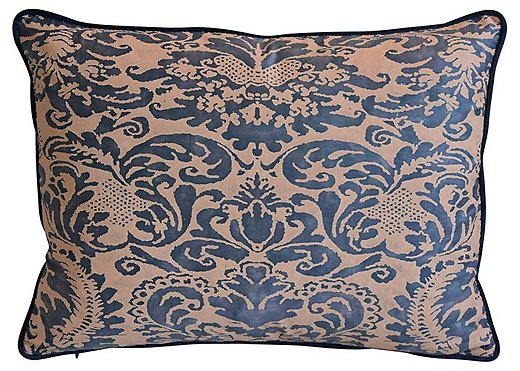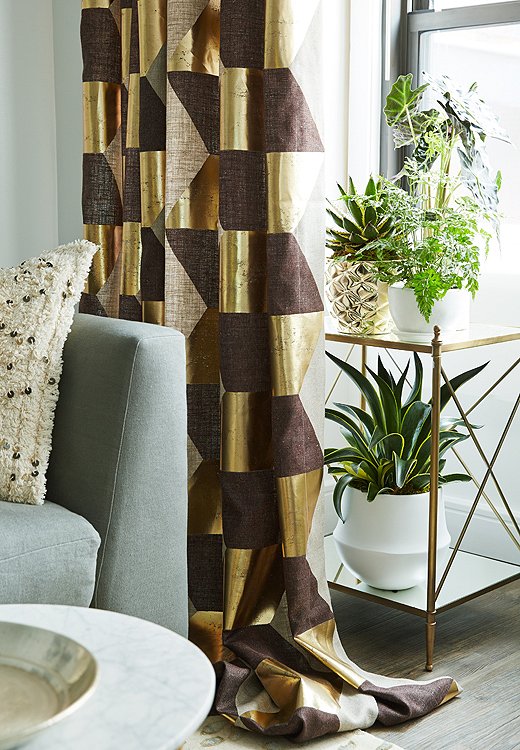 Folding screens by Eileen Gray inspired Pierre Frey's graphic Kubus fabric, used here for curtains. Room by Andrew Stewart.
Pierre Frey
After working as a furniture polisher and a milliner, among other things, Pierre Frey opened what would become his eponymous firm in 1934, two days before he celebrated his 31st birthday. Today the third generation of Freys run the Paris-based company. It is one of just 90 members of the Comité Colbert, an association dedicated to "flying the flag of French luxury." The more than 1,100 Pierre Frey fabrics available today run the gamut from the lavish Bursa, inspired by a 16th-century Ottoman Empire miniature, to contemporary prints that incorporate weaving, embroidery, and printing.
Brunschwig & Fils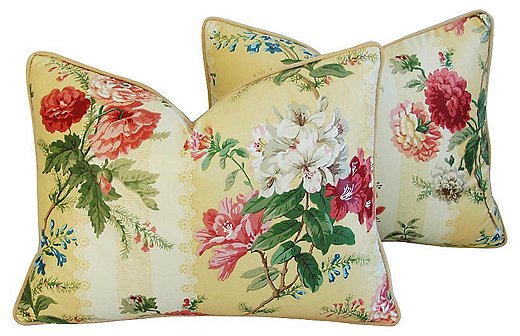 A more appropriate name might be Brunschwig & Fils & Belle-Fille, because the daughter-in-law (belle-fille) of founder Achille Brunschwig played a key role in taking the French firm to global renown. Founded in 1900 as a tapestry mill, the company branched out into cotton and silk fabrics. Achille's son Roger took over in 1925; when Roger joined the Free French Forces in 1941, his wife, an American designer, took over. Zelina, aka Mrs. B, created her own designs, used muslin in lieu of impossible-to-find luxury fabrics, and outsourced printing of her textiles to American mills, keeping the brand afloat throughout World War II and expanding it beyond Europe.
Brunschwig & Fils no longer produces its Sybella floral print, but the fabric can still be found on vintage pillows and upholstered furniture.