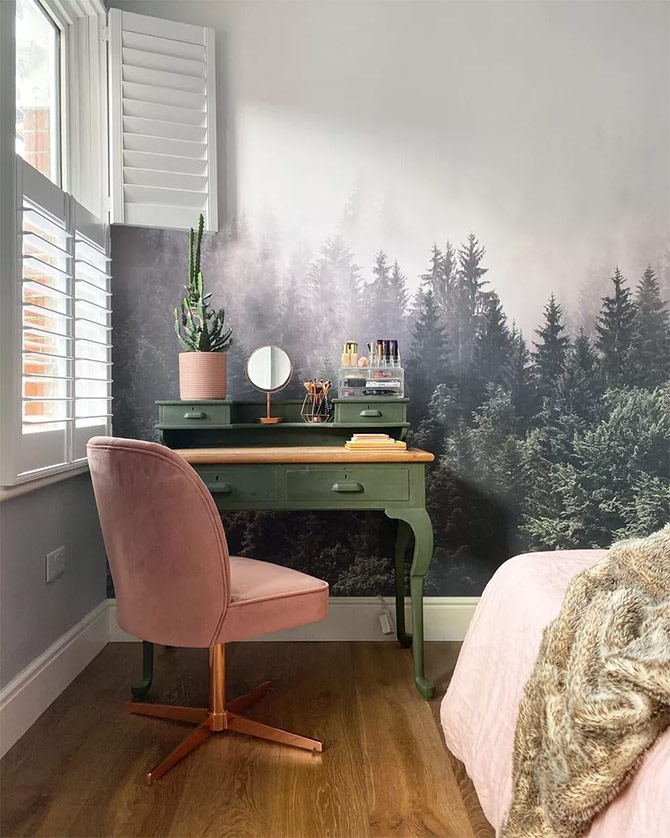 Forestry scenes evoke a cool calm alpine freshness that can dissipate the staleness of a much used bedroom. Wallpaper or murals depicting a fresh landscape scene work equally well for the heights of summer or the depths of winter.
Artwork that is soothing in both palette and subject sets the scene for a restful slumber. For a cohesive look, use tones from the artwork to define the colour palette for the space. Think linen, soft furnishings, curtains and rugs.
This dandelion pappus mid spread is an artful representation of the fragility that nature embraces as a lovely way of survival. And who doesn't want to gently drift away into dreamland?
As humans, our love for plants is well documented and celebrated. But the constant maintenance of keeping them alive can be all too much for most of us. Entwine with the beauty of greenery (minus the upkeep!) with foliage inspired wall design.
If you're a fan of functionality meets aesthetics when it comes to master bedroom design, why not dual purpose some curtains to decorate your walls? A blackout or brownout pair make a strong statement and colour block that you can use as a backdrop.