22 Easy Home Decor Ideas That Will Instantly Transform Your Space
Autumn is the most beautiful time of the year and a great time to decorate your home. So we want to send out the biggest sale of the year on all products on the website. In addition to the direct discount on each product, you will receive an additional 5% discount of the total cart value with the discount code AUTUMN 2022 . Let's refresh your home with the following ideas!
If your home is due for a design update but you have a limited budget and even less time, you're in the right place. We thought of 22 home décor ideas to help you start. With something as simple as an accent wall, colorful light bulb, or new throw pillow (or forty seven other home décor ideas if those aren't up your redecorating alley), your entire space can feel fresh, on-trend but timeless, and refined. You can tackle each of these decorating ideas in one day, even though the results will look like it took way longer to pull off.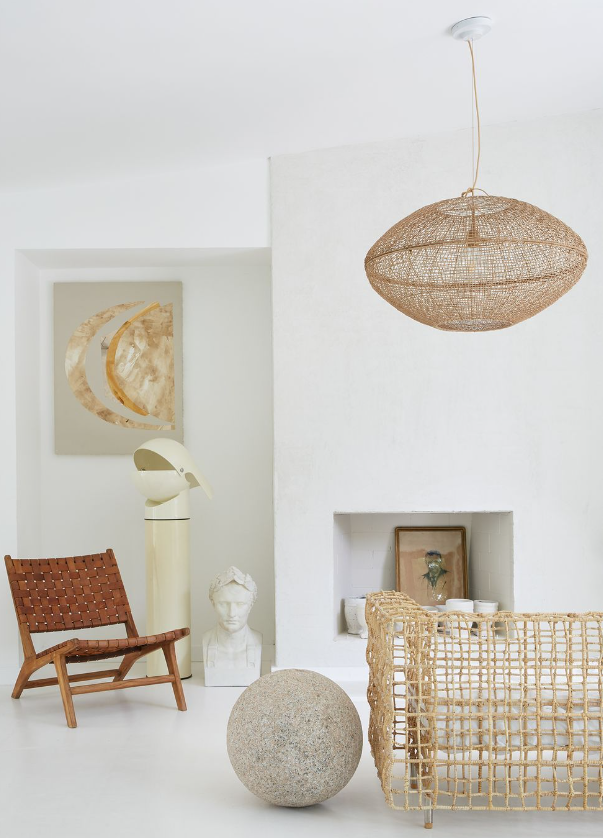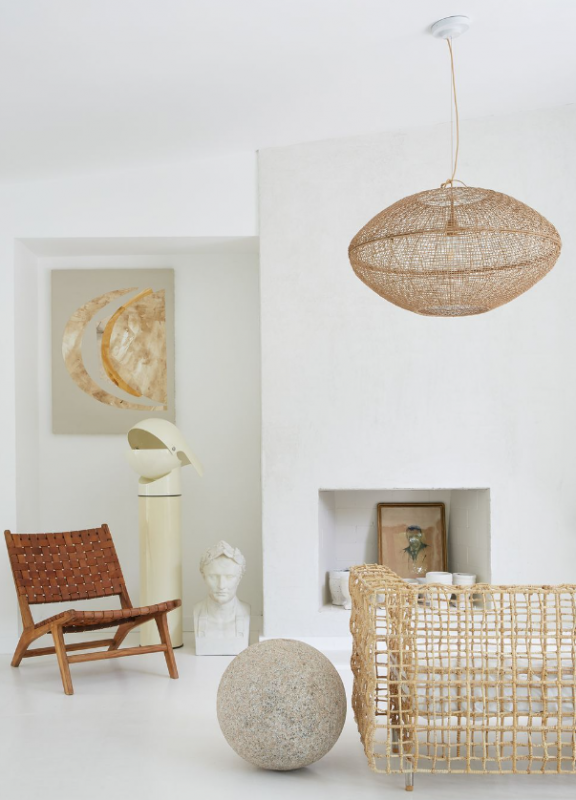 Rethink how you style an empty fireplace. In this texture-rich environment, interior designer Leanne Ford turned an empty fireplace into a little gallery to display pottery and artwork.
From the inky stained wood to the modern side chair and clean-lined ladder, this home library designed by Fiona Lynch is a gorgeous contemporary take on traditional design. You could fill it with books—or you could add in decor accents and accessories like vases and sculptures to break up the monotony of a wall of books. Or, color-coordinate your books. Not only will it feel more cohesive, but if you've got a lot of bright colors in your collection, they'll stand out even more.
3. Spruce up Your Entryway
If you don't have a grand foyer—or you do but it needs some love–introduce a small console table. For a formal yet modern aesthetic, opt for a traditional table and then hang modern abstract art above it. Then lean some portraits against the wall for a laid back take on the gallery wall.
If any area in your home is feeling austere, sheepskin throws are the easiest solution. They bring in warmth, texture, and comfort while also being super affordable and easy to move throughout your space as your needs and moods shift.
It's easy to overlook a room when it's super tiny, especially because there simply isn't enough useable space for décor. But it's definitely possible—and well worth it—to show these nooks some love. Take this powder room, for example. With a light blush pink wall color and a surrounding gallery of eclectic artwork, the small room packs a lot of punch.
This space is rich with texture, which creates warmth and dimension. There's also plenty of character even though it's sticking to a strict color palette. For a similarly inviting and grounded environment, get inspired by nature. Think seagrass, rattan, jute, wood, brushed concrete, and marble.
Reupholstering your furniture will automatically freshen up an entire space. And if you love eclectic decorating, take notes from this impeccable living room. All the juxtaposition in this room is working so well—the angular mirror, vivid orange art, marble fireplace, rustic stool, and geometric pottery are all unexpectedly complemented by the softness of the blush pink chairs
8. Simply Tidy Up
This probably isn't what you want to hear since we don't think of cleaning up as fun, but adding a few pieces that ease organization can make a huge difference. Consider installing coat hooks or bringing in a stylish coat rack coat by the front door. Then place a small folding chair underneath it to sit on when you take off your shoes. This will prevent those dreaded (and previously inevitable) clothing pileups.
For a graphic statement, color-block your wall. Paint half of it a bold color or opt for two neutral tones. Here, black creeps up about a quarter of the way while the rest is a nice shade of steel gray, creating an understated-yet-unique statement.
Freshen up a bathroom by giving the walls a fresh coat of white paint. If that sounds like too much of a commitment, use a magic eraser to touch up smudges. It's bright, refreshing, and the perfect blank backdrop for a fun gallery, as seen in this bathroom designed by Alexander M. Reid.
You don't have to wallpaper your entire room—just pick a wall and accent with it. It's fast, easy, and makes a big difference.
If the walls in a hallway are feeling tired or lackluster, add a gallery wall. Bring in antique frames, or hit up a thrift store or flea market, and arrange a ton of hand mirrors into a gallery wall.
Make a simple wall a little more exciting with oversized artwork. Choose large-scale photography or something abstract and vibrant to really make a statement.
If there's anything that can single-handedly polish off a room, it's a light fixture. Case in point? That brass pendant light. It feels much more refined and sophisticated than a table lamp would and contrasts with the more traditional elements throughout the bedroom.
This little corner is sleek, stylish, and perfectly handsome as is, thanks to the modern leather lounger and graphic rug. But that floor-to-ceiling lamp is an architectural stunner that really brings in that added wow factor. Look for a floor lamp that doubles as artwork for a similar vibe.
For an unexpected (and easy) pop of color, trade in your classic bulb for a bright one. It adds the same vibe as a neon sign without taking up any space on the wall. Try it in a hallway or entryway, where décor moments are precious and square footage is limited.
Does anything make a statement like something shiny and gold? Add a metallic light fixture, sculpture, or vase to instantly upgrade your room.
The super easy way to switch up your furniture game? Buy a slipcover.
If you've got a marble top coffee table, take it off and place it on the floor. Prop it up with some books for a bohemian update.
Boho? Rustic? Traditional? The rug you choose can instantly change the whole aesthetic of your room.
Swap out your formal chairs (in this case, bright blue and green ones) for a few rustic metal ones. This creates a more casual atmosphere in the dining room.
Breakfast with a view? We're in. This one is country-chic and just a touch rustic but still polished. It also proves you don't need to have an actual built-in nook to achieve the right vibe.