We're big fans of twin beds in guest rooms and children's rooms, alike. There's just something about the symmetry of two beds side-by-side that makes them doubly fun to look at and decorate with. So we decided to spotlight our favorite designer bedrooms with twin beds to make the rest of the world fall in love with them, too. Whether you're designing a bedroom for actual twins, or you want to create a flexible, kid-friendly guest room, the twin bed decorating ideas below will set you up for success.
1.Rethink the Layout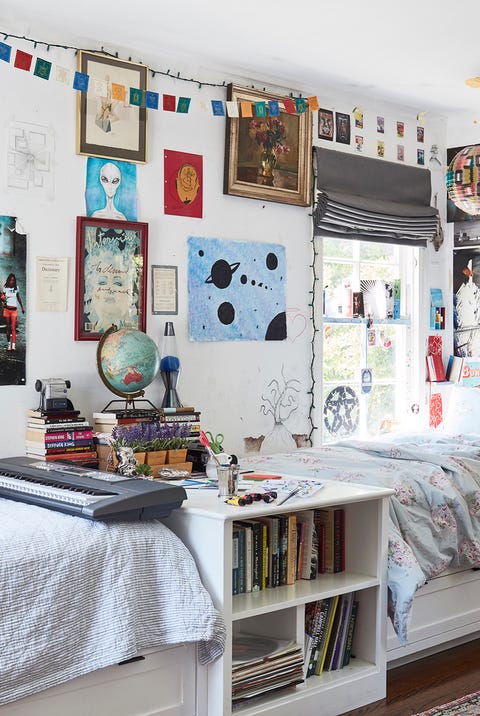 Rethink the classic side-by-side vertical layout and orient two twin bids against a wall horizontally facing each other with a side table in between. Cuff Home opted for a central table that fits all the kid's records and books.
2.Mix Patterns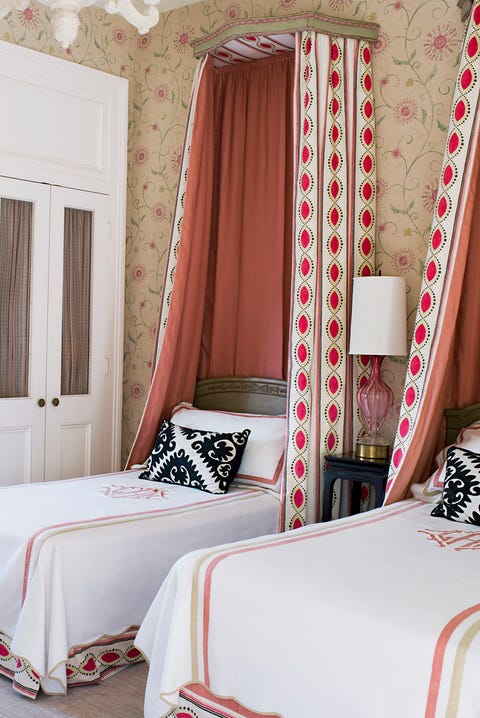 Sky-high Suzani canopies make these twin beds in a room by Melissa Rufty super luxe and classic but also fun and unexpected. The matching skirts and intricate black and white pillows contrast nicely with the dainty floral wallpaper and traditional monogrammed coverlets.
3.Cozy Into a Corner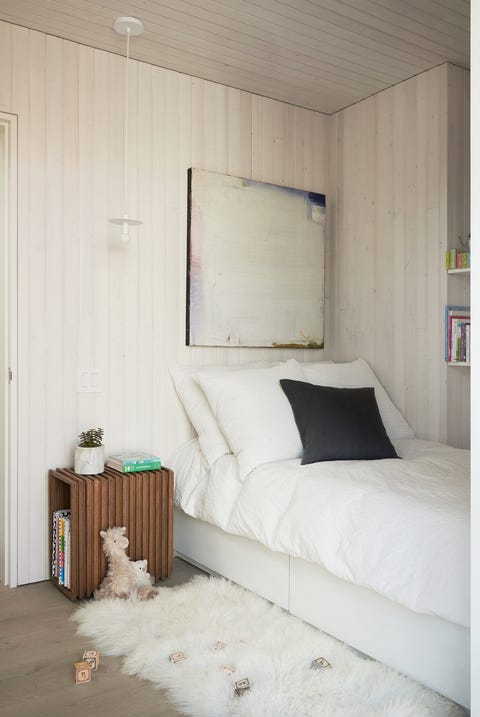 Nestled into a corner, this cozy twin bed in a room by Kevin Scott feels contemporary and fresh but also sweet and cozy for a kid in a smaller bedroom.
4.DIY It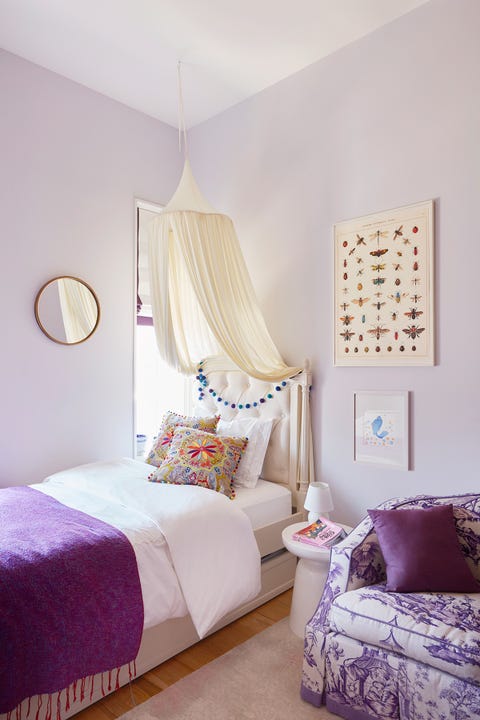 Hang a store-bought canopy from the ceiling instead of going the custom route that requires a little more comitment. In this purple design by Garrow Kedigan, the cream canopy complements the headboard and adds dimension.
5.Inspire Peace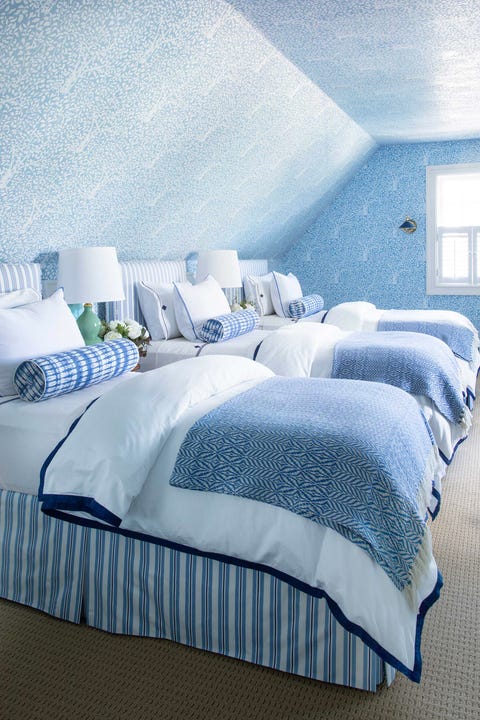 The more the merrier, right? Beatriz da Costa created the ultimate resting space by cocooning the walls in a sky blue wallpaper that will inspire a carefree childhood but also lend itself well to a more mature age group as the occupant grows up.
6.Elevate It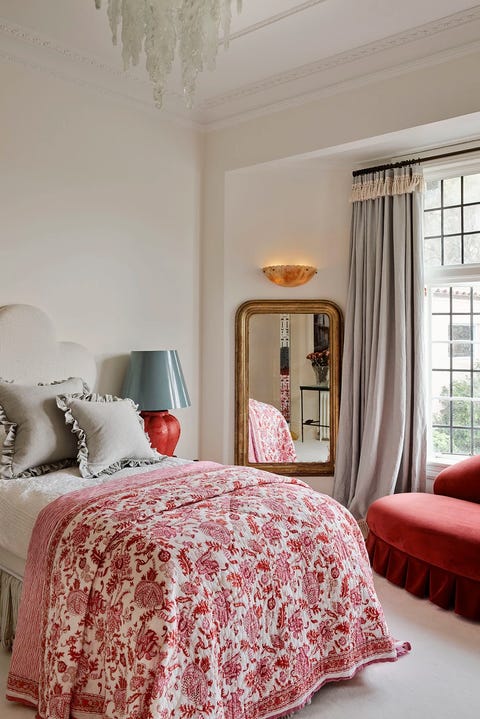 This chic bedroom by Vivi Interiors proves that, with the right styling approach, twin beds can look just grown up as a double, queen, or even king-sized bed. Here, a nearby chaise, elevated lighting and accents, like the mirror and curtains, and a tasteful color scheme do the trick.
7.Make Magic Happen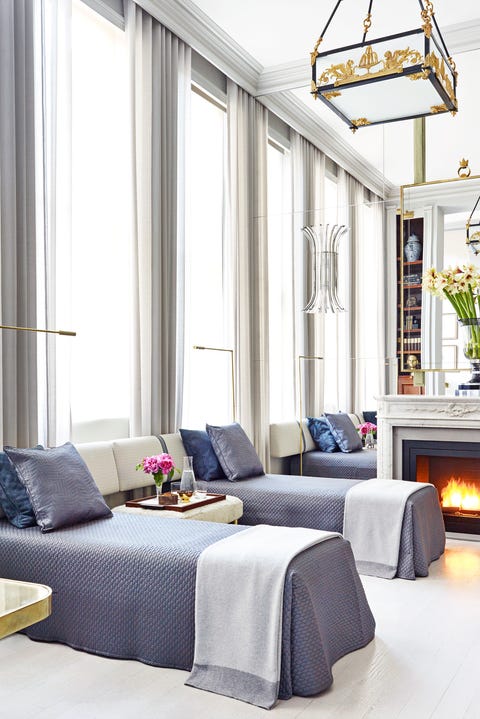 Interior designer Vivi needed to squeeze a guest room into his small apartment for his nephew. So he created a pair of six-foot-long banquettes that pivot to become twin beds. They're customized with built-in drawers to store bedding, too.

8.Mix and Match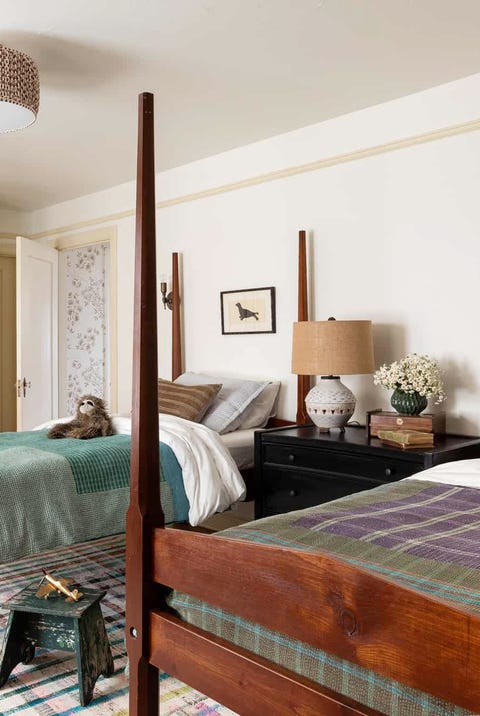 Just because they're twins doesn't mean they always have to match! Opt for complementary bedding in varying tones and shades for a more eclectic and unique look. Take note of this laidback yet polished bedroom by Heidi Caillier.